Darren Fletcher: No thoughts of Manchester Utd or Scotland exit
Last updated on .From the section Football
Scotland captain Darren Fletcher has never thought of quitting football despite suffering from a chronic bowel condition for nearly three years.
The Manchester United midfielder, 29, has featured in only 13 games since announcing he was taking an extended break from football in November 2011.
"It's never been an issue to give up and not try," said Fletcher, who has not played since surgery in January.
"It's a game I love and I feel I've got a lot more to achieve."
Fletcher, capped 61 times, has already enjoyed a glittering career, including four championships with United and a Champions League triumph.
"I've been through some tough times but there has always been a goal to get back playing," he explained.
"I want to win more Premier League titles, I want to win FA Cups, Champions League, qualify for a major tournament with my country.
"Even if I do that, I want to do it all again!"
Fletcher admits he still has no idea when he will be able to resume playing but is confident he can regain his best form.
"I fully believe that I'll be back at the level I was playing at," he said. "I've not been given any reason to think that can't be the case.
"I need to be positive. It's the only way to get through the situation.
"I don't have a timescale for when I will be back playing really.
"Hopefully, it is not going to be too far away. I just need to be patient."
Fletcher's last appearance was on Boxing Day as an 89th-minute substitute and he admits that it is "always difficult watching".
But he has been heartened by discussions with David Moyes, who has succeeded Sir Alex Ferguson as manager at Old Trafford.
"I'm still in the hands of the surgeons at the moment," continued the midfielder.
"I've been doing my own little bit in the gym, which is keeping me ticking along nicely and I'm waiting for the surgeon to give me the go-ahead to join in training.
"I've spoken to the manager and he's great, we had a good chat and everything in that respect is positive.
"He's given me all the time and support I need to make a full recovery.
"I just can't wait to go back when I'm ready to get back training, not just plodding around no use to anyone."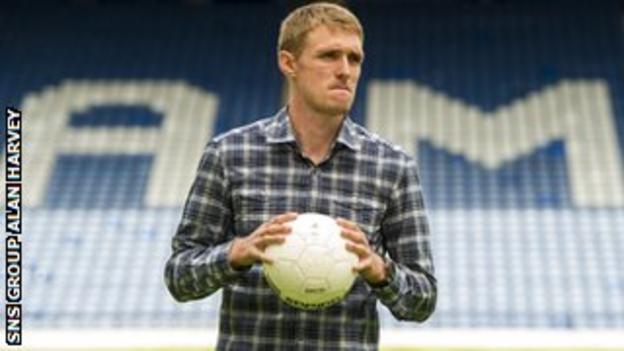 Scotland meet England in a friendly at Wembley next week and Fletcher hopes Gordon Strachan's squad can build on June's victory in Croatia.
"I'm desperately disappointed not to be involved," said Fletcher.
"If you can't get excited about Scotland v England, then you shouldn't be in the game.
"If the boys can go to Wembley and beat England then they'll become legends.
"I just hope we continue from the Croatia game, which was a fantastic performance."
Scotland can no longer qualify for next year's World Cup finals in Brazil, but the victory in Zagreb ensured they will be in pot four for the draw for Euro 2016.
"We need a bit more belief in ourselves," added Fletcher. "Good results will bring confidence.
"We have players at a high level in club football, we just need to build a run of results."