Premier League signings to watch for 2013-14 season
By Saj Chowdhury
BBC Sport
Last updated on .From the section Football508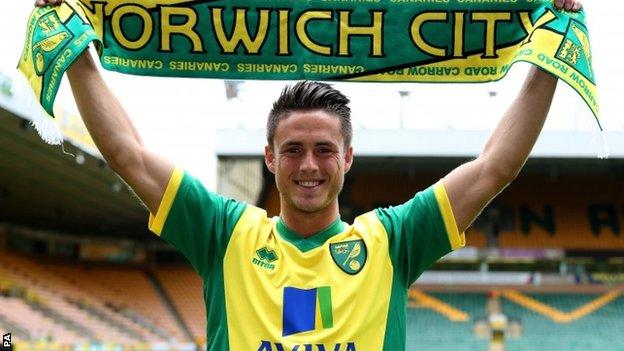 Which summer signing will make the biggest impact in the Premier League this season? Who will be a top-flight turkey?
There are still two weeks remaining before the transfer window closes, but, with the help of our European football analysts, we look at some of those who have arrived early and will be seeking to establish themselves in football's richest league.
PAULINHO - Tottenham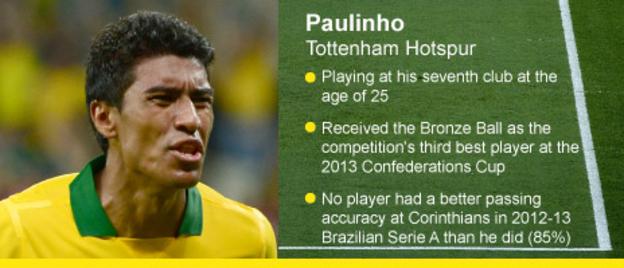 Age: 25
Position: Midfielder
Transfer fee: £17m
Paulinho is another strong box-to-box midfielder to play in the Premier League - a cross between Steven Gerrard and Yaya Toure when he is let off his leash.
The 24-year-old was one of the many Brazilians brought to a former Soviet state in the mid-2000s, although rather than find himself at one of the Russian or Ukrainian cash-rich clubs, the Sao Paolo player played at Lithuanian club Vilnius before moving to Polish side Lodz.
He returned to Brazil where he eventually signed for giants Corinthians, helping them win the league, Copa Libertadores and two Fifa Club World Cup titles - the second being a 1-0 win over Chelsea in December.
His precocious skills were brought to the attention of an English audience when he scored an exceptional volley for Brazil against Roy Hodgson's side in the 2-2 draw in June. He also found the net in that month's 3-0 win over Japan at the Confederations Cup.
Paulinho's arrival will boost a Spurs midfield which is already strong, although Scott Parker may view his presence somewhat differently.
Tottenham assistant Steffen Freund: "We now have three Brazilians at the club. We need top-class players and saw how he performed for Brazil at the Confederations Cup."
South American football expert Tim Vickery: "At 25, having achieved all he can in South American football and won the Confederations Cup with Brazil, Paulinho would seem to be coming to England at the right time and for the right reasons. His all-round game, and capacity to burst into the box Frank Lampard-style would seem to make him perfect for the Premier League. A downside? Anything other than a Champions League place would be classed as failure for Tottenham. And the likely loss of Gareth Bale will mean that the pressure will be piled on Paulinho from day one."
ANDRE SCHURRLE - Chelsea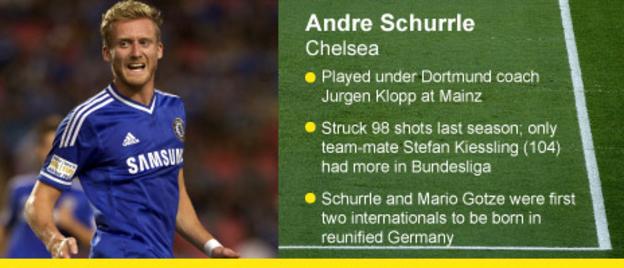 Age: 22
Position: Forward/winger
Transfer fee: £18m
Germany is a giant in manufacturing - think automobiles, footwear, beer.
In football, its production line of young talent is currently the envy of much of Europe.
Mainz-graduate Schurrle, at the age of 22, comes to Stamford Bridge with plenty of plaudits having starred in Bayer Leverkusen's last Bundesliga campaign that saw them finish third - only a point behind Borussia Dortmund.
Playing as a left winger, who can play as a second striker, he scored 18 goals in 34 appearances for the pharmaceutical-backed club. He had 98 attempts on goal in total, second only to team-mate Stefan Kiessling (104) in the league.
Schurrle made his debut for the national side in 2010 in a match against Sweden. He came on as substitute at the same time as ex-Borussia Dortmund midfielder Mario Gotze - both becoming the first internationals to be born in reunified Germany.
Chelsea manager Jose Mourinho: "Schurrle is a player who is absolutely ready and he gives us more than one position in attack and adds quality. He will be important for us."
German football expert Raphael Honigstein: "Schurrle should become an instant favourite of Mourinho at Chelsea. His game is based on running incessantly at full pace. At Mainz 05, his first club as a professional, he was regularly doing 15 miles an hour for up to 600 metres each game. His preferred position is wide out left, and he loves coming inside in a very direct way - the way ex-Arsenal forward Thierry Henry used to play. He might not immediately assert himself as a regular, but Mourinho will relish his counter-attacking skills."
FERNANDINHO - Man City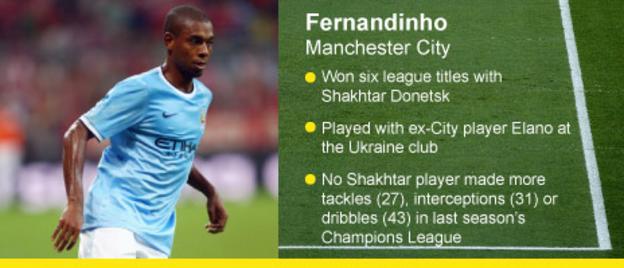 Age: 28
Position: Midfielder
Transfer fee: £30m
The Brazilian is City's most expensive signing of the summer so far and, along with Jesus Navas, was a player high on new manager Manuel Pellegrini's hit-list.
The 28-year-old was a midfield dynamo for Shakhtar Donetsk, where he spent eight years. Like Liverpool's Steven Gerrard he can make an effective contribution in all areas of the pitch - whether it is coming deep to help his defence or linking up with the attack, which Chelsea found to their cost in the Champions League last season. He also possesses a fearsome shot.
Despite his attributes, he is not guaranteed to make the Brazil squad for the World Cup, having won only one cap in 2012, against Bosnia-Hercegovina in February. Fernandinho will be hoping a string of good performances for City this season will convince national team coach Luiz Felipe Scolari that he is worthy of a place in his squad.
Manchester City manager Manuel Pellegrini: "He is a superb athlete with a wide range of passing, can score goals and, most importantly, can quickly turn defence into attack."
South American football expert Tim Vickery: "Whippet-lean but with a wonderful engine, Fernandinho will clearly supply some drive to the centre of the City midfield - and can also turn out at right-back. But he is hardly the most glamorous figure to be the Premier League's most expensive transfer window import. And £30m is a lot to pay for someone who has never had a consistent run in the Brazil squad, and who has spent the last eight seasons in the Ukrainian league."
MAARTEN STEKELENBURG - Fulham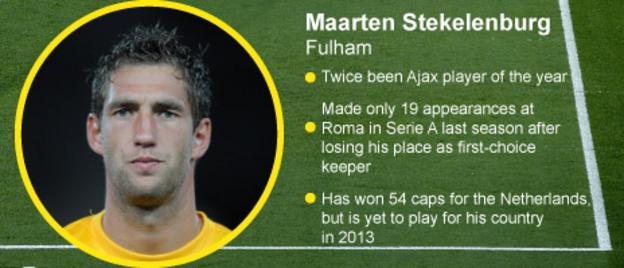 Age: 30
Position: Goalkeeper
Transfer fee: Undisclosed (reported £4m)
Mark Schwarzer was one of the jewels in Fulham's modestly-assembled squad. Dependable, assured and often brilliant. He has moved on to Chelsea, and has been replaced by the Netherlands number one. Surely good business by manager Martin Jol?
Stekelenburg - in goalkeeping years - should be reaching his peak. Two years ago he won the Dutch title with Ajax, and in 2010 he made several great saves, including an acrobatic effort to deny Brazil's Kaka, to help the Netherlands make the 2010 World Cup final.
The 6ft 5in Dutchman joined Roma in 2011 to help block a hole in the leaky defence, but his form was mixed during his time in Serie A, and last season he was sent off in the 2-1 home defeat by derby rivals Lazio.
Jol, who worked with Stekelenburg at Ajax, wanted him during the January transfer window and now has his man. He will be hoping that his compatriot repays his faith in him.
Fulham manager Martin Jol: "He is a player of great quality and technical ability whose distribution and ability to react quickly and read the game is exceptional; he will be a fantastic addition to the talented team of keepers that we already have."
European football expert Andy Brassell: "Better late than never, after Roma's failure to find a replacement for the Dutch goalkeeper meant this transfer was canned in January while he was midair en route to London. The comparisons with the great Edwin van der Sar are inevitable; Stekelenburg has now succeeded him for Ajax, the Netherlands national team and Fulham, with a spell in transit in Italy too. Stekelenburg was a little unlucky at Roma, but is a strong presence and his ability to sweep up is important given Fulham's comparative lack of pace in central defence."
RICKY VAN WOLFSWINKEL - Norwich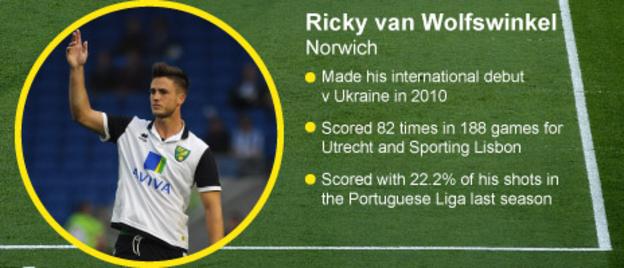 Age: 24
Position: Striker
Transfer fee: Undisclosed (reported £8.5m)
Feed the Wolf and he will score - the young Dutchman has got a rabid appetite in front of goal.
The 24-year-old, who is Norwich's record signing, is already off the mark for the his new club having scored in the friendly against Real Sociedad. Canaries manager Chris Hughton will be delighted with Van Wolfswinkel's start having admired him since his time in charge of Newcastle.
The forward was linked with a move to the Magpies, and Liverpool, back in 2010, when he was scoring at almost a goal a game for Utrecht. Assistant of the Dutch club, and former Netherlands international, Jan Wouters, told the BBC at the time: "He needs to improve on holding the ball and become physically stronger. He has to learn to be key to an attack not only at the end of a move but at the start, too."
He did learn and become stronger during his two-season spell at Sporting Lisbon, scoring 20-plus goals during both campaigns. If both he and Gary Hooper click as a partnership then Norwich fans are in for a treat.
Norwich manager Chris Hughton: "He's a player that's always scored goals, but this is the toughest league to do it in."
European football expert Andy Brassell: "Van Wolfswinkel was sometimes undervalued in his time in Utrecht for being 'just' a goalscorer, but has worked intensely on his game during his two years at Sporting Clube de Portugal. As well as hitting 45 goals with Sporting, the 24-year-old toughened up and filled out, and now has the muscle to cope with Premier League defenders' attention. He is an inventive finisher and will provide Norwich with variety in the final third as they seek to improve on last season."
EMANUELE GIACCHERINI - Sunderland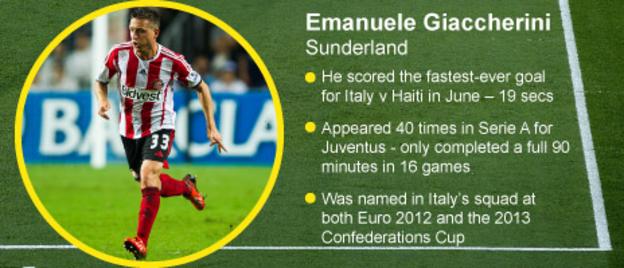 Age: 28
Position: Midfielder
Transfer fee: £6.5m
Sunderland manager Paolo Di Canio is Italian, his backroom staff are Italian, so perhaps it comes as no major surprise that the club have been linked with several compatriots from the Italian leagues during this transfer window.
The first to arrive at the Stadium of Light is Giaccherini, who has made the move from Serie A champions Juventus to a Black Cats side that struggled in the Premier League last season. Some have regarded the signing as a coup.
The 28-year-old, who can play on the right or in the centre, was not able to seal a regular first-team slot at Juve during his two years at the club because of Arturo Vidal, Andrea Pirlo and Claudio Marchisio taking up the key roles in midfield.
However, he did start four of the five matches for the Azzurri at the summer's Confederations Cup, and scored against Brazil with a powerful angled drive in the 4-2 defeat.
The Black Cats might have just struck lucky.
Sunderland manager Paolo Di Canio: "I'm sure Giaccherini will not prove to be another expensive misfit Italian landed in the Premier League."
Italian football expert James Horncastle: "'If you were to ask me whether I'm happy about the departure of Giaccherini, I'd say 'No',' Juventus coach Antonio Conte said following the player's move to Sunderland. A manager's delight, he's versatile, prepared to fill in when and where necessary. He never complains and always gives 100%, which explains why Conte and Italy coach Cesare Prandelli admire him so. He's a 'Giak' of all trades."
WILFRIED BONY - Swansea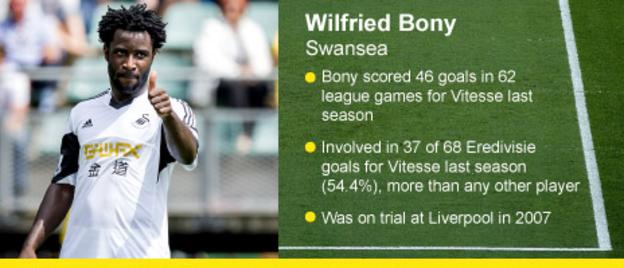 Age: 24
Position: Striker
Transfer fee: £12m
The explosive Ivory Coast forward was the Eredivisie's top scorer last season with 31 goals in 32 games for Vitesse Arnhem. His tally helped the Dutch club finish fourth - their highest league placing since 1998.
The £12m-man has already scored twice for Swansea, on his debut in the Europa League 4-0 win against Malmo, a match that saw him forge a good understanding with leading frontman Michu.
Bony, who developed his skills at ex-Milan player Cyril Domoraud's academy in Ivory Coast, had a trial at Liverpool in 2007 organised courtesy of former Sheffield United forward Brian Deane. He eventually moved to Sparta Prague, where his 10 goals during the 2009-10 season helped the Czech side win the league for the first time since 2007.
Swansea manager Michael Laudrup: "He's good in the air. That's given us something extra as well to see if we can score some set-pieces."
European football expert Andy Brassell: "On his debut against Malmo, Bony quickly showed why so many teams were interested in him. 'Daddy Cool' is not just an instinctive goalscorer, but has the all-round game to fit into Swansea's possession-led style, and a prodigious work-rate to boot. His already excellent English is helping him to fit in quickly at the Liberty and best of all, the introduction of a quality centre-forward allows Michu to be in his preferred spot, bursting into the box from deep."
JESUS NAVAS - Man City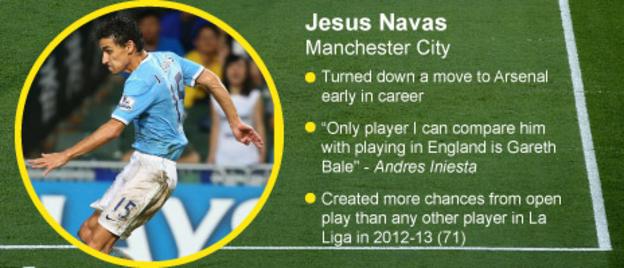 Age: 27
Position: Winger
Transfer fee: £14.9m
According to one of Barcelona's holy trinity, Andres Iniesta, the only other player Jesus Navas can be likened to in England is Gareth Bale. That is quite a compliment.
The 27-year-old only scored 34 goals in 393 appearances for Sevilla - so he is a clear second best to the Welshman in that department. But he did create more goalscoring chances from open play (71) than any other player in La Liga last season, so there's a fillip for City's forwards.
A 'one-club man' up until his move this summer, he has already demonstrated his pace and potency along the right wing during the club's pre-season, with manager Manuel Pellegrini stating "man-to-man he is a very difficult player to stop".
City have four others like that - David Silva, Alvero Negredo, Samir Nasri and Sergio Aguero. Opposition defences, you have been warned.
Manchester City manager Manuel Pellegrini: "He is quick, has excellent technique and I think the City fans will enjoy watching him play. He will provide a variety of attacking options for us and he can also score goals as well as create them for others. He is an excellent signing for the club."
Spanish football expert Andy West: "There's no doubting Jesus Navas's quality, but question marks have been raised over his ability to flourish in Manchester following the well-publicised bouts of homesickness he suffered in the past. However, those problems are now under control. He wouldn't have agreed to move to England otherwise, and his significant role in Spain's World Cup and European Championship triumph prove he can deal with extended periods away from home. It also suggests he can thrive in an environment where winning is the expectation."
Some statistics courtesy of Opta Sports