Isha Johansen calls for Sierra Leone football to unite
By Mohamed Fajah Barrie
BBC Sport, Freetown
Last updated on .From the section Football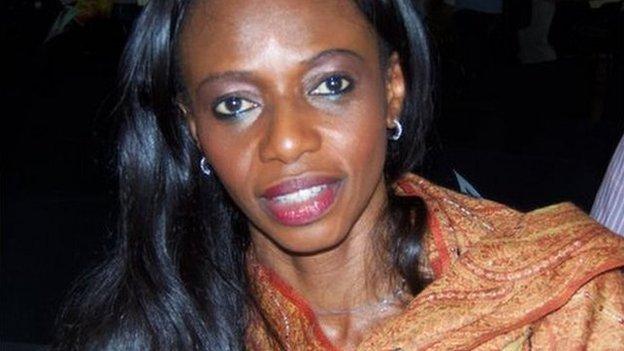 The newly elected Sierra Leone Football Association (SLFA) President, Isha Johansen, has promised to bring discipline, sanity and integrity to football in her country.
She was elected unopposed last Saturday after world football's governing body, Fifa, endorsed the decision by the FA's interim committee to disqualify Mohamed Kallon, Rodney Michael and Foday Turay from standing in the polls.
All three boycotted the polls in protest at their expulsion from the elections and have refused to endorse Johansen as new SLFA President.
They have written a petition letter to Fifa alleging that about 12 delegates were impersonated in the elective congress in order to form a quorum to give legitimacy to Johansen.
But Fifa and Confederation of African Football (Caf) officials who supervised the elections have given the process a pass mark and have already congratulated Johansen.
And Johansen is keen to move attention on how to bring discipline and unity into the SLFA.
She told BBC Sport: "My focus now really is to try to bring some semblance of sanity and peace into the football and we can move forward.
"I've never been big on words, I've never been big on promise, I don't do that I actually implement, I actually do things.
"But in order to get anything done, even if it's a short-term plan, you have to bring sanity, integrity and discipline within your system, your working environment, and right now that's really not really the situation."
The Sierra Leone elections had been surrounded in controversy for almost a year and it continued on to the day of the election with debate over eligible voting delegates.
This brought deep divisions and acrimony within the football family in Sierra Leone, something Johansen is aware of it and has called for and end to the anger.
"I've used this holy month (of Ramadan) as an opportunity to extend my hand of peace. I want the malice to stop, I want the backbiting, the war, the rage to stop, all the anger to stop," said Johansen.
"We are one family in this football and I don't have all the answers. I never ever professed to have all the answers; my team do not have all the answers.
"Rodney Michael has good number of answers, Kallon is undoubtedly one of the most talented players this country has ever produced, he's got answers, he can make things work and I think that jointly we can make a formidable force in football.
"I appeal to them that they should lay down their arms. We have, as a nation, come a long way, we have the emotional scars and a physical scars to prove that senseless wars don't yield anything and for me that this is happening now in football is rather senseless."
Johansen says she'll be calling an extra-ordinary conference to map out the way forward.
"In the next three months we'll be having an extra-ordinary conference. When we see what have been done with the past regime we'll now be able to put forward to you a blue print of what our short and medium plans are," she added.
Johansen is the third female boss of an African football association after Izetta Wesley of Liberia and Burundi's Lydia Nsekera.
She believes her appointment will open the doors for Sierra Leone on a the global stage.
"I think going down in history as the first female president of the SLFA will send good positive waves globally and it'll boost our international status," she said.
"I think that my coming to football as a woman can open global doors, which have been shut on us because people still perceived us as that doom and gloom war-torn country which we are not."
Johansen, who has a public relations background, is well known for her work with youth football in Sierra Leone - she became involved in football administration when she formed her club FC Johansen in 2004.
She rose to prominence in Sierra Leone football due to the successes of her club in international youth competitions over the last four years.
FC Johansen won the Swiss Under-16 Cup last year, defeating Liverpool in the final and winning the Mitnordick Cup in Sweden in 2009.
She also organised two youth tournaments in Freetown in 2009 and 2010 featuring teams from Africa, Brazil and Norway.