Chelsea Ladies: Yuki Ogimi sees bright future for women's game
Last updated on .From the section Football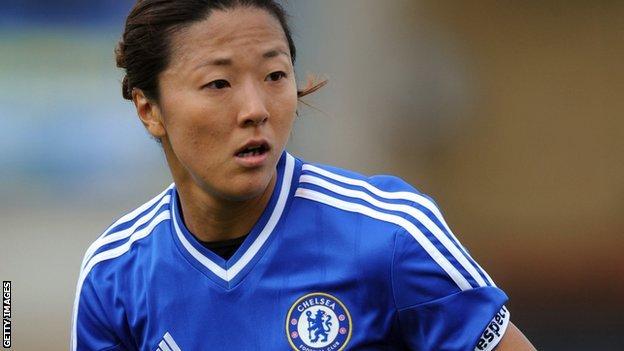 Chelsea Ladies striker Yuki Ogimi believes women's football in England will go from strength to strength.
Ogimi, 26, was recently signed from German club FFC Turbine Potsdam and made her debut in Sunday's 4-0 thrashing of Doncaster Belles.
She became the first Japanese player to feature in the FA Women's Super League.
"England has become a really good place to play. The Women's Super League means the football will really improve over the next few years," she said.
"The Premier League has become so successful because the best players have come to this country and I think the same will happen with women's football in England if the league starts taking more foreign players.
"I experienced it in Germany, where the women's league really improved after more foreign players started coming into it."
Ogimi was a World Cup winner in 2011, won the Women's Champions League with her previous club and represented her country at last year's Olympics in London.
She is confident she can adapt quickly to the style of play in England and that her new team can enjoy a successful season.
"In English [men's] football the pace is really quick - a lot of quick football and pressure on the ball - and I think in many ways it is the same in women's football," Ogimi said.
"I've not trained many times with the ladies but the impression I get is that in some ways the style is similar, especially compared with other parts of the world.
"I'm a striker who can score goals and also create goals for others. I think I have a good understanding of the game and can anticipate things.
"There is an emphasis here on putting opposing players under pressure, so good decision-making is very important."
She added: "Our aim is of course to win the title, but first of all to finish in the top two.
"We want to qualify for the Champions League. It's a tournament I like to play in and hope to do so in the future.
"That would make me very happy, but I am already happy to be here. London is very good. I like it in England and am already really comfortable living here."