Celtic close 'Green Brigade' stadium section
Last updated on .From the section Celtic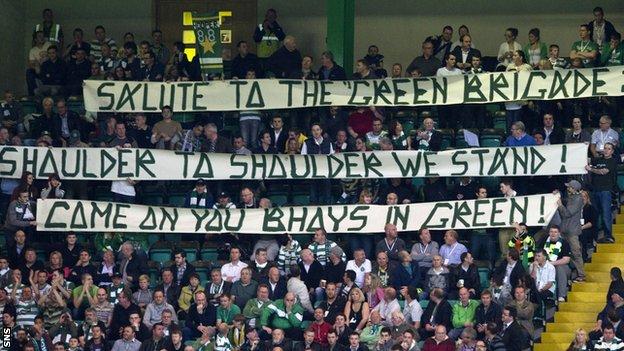 Celtic have closed a section of their stadium for safety reasons after repeated warnings to fans to remain seated during matches were ignored.
Fans in section 111, home to the 'Green Brigade', will now be offered a refund or given the chance to relocate.
"We have been left with no option but to take steps to ensure the safety of our supporters," read a statement.
The Green Brigade are a self-styled 'ultras' group of fans known for banner displays, demonstrations and chanting.
The Celtic statement raised concerns with overcrowding in section 111 and the refusal of spectators to comply with the direction of safety stewards.
Unsafe "lateral movement of spectators" and "body surfing" was also highlighted, along with damage to 190 seats in the area over the last four home matches.
The statement explained: "Stadium safety is covered by a Stadium General Safety Certificate, which is issued annually by Glasgow City Council in terms of the Safety of Sports Grounds Act 1975. Without our Safety Certificate, we could not open and operate the stadium.
"In order to protect our Safety Certificate, it is essential that we comply with all of our duties in terms of safety for spectators at Celtic Park. Unsafe behaviour at Celtic Park is not acceptable and we have made our position on this clear.
"Under advice from the Safety Advisory Group, which includes representatives of Scottish Fire and Rescue Service, Scottish Ambulance Service, Police Scotland and the Council, it is open to Glasgow City Council to enforce a reduction in stadium capacity or, ultimately, to close a stadium."
Manager Neil Lennon has previously praised the Green Brigade for the atmosphere they create inside Celtic Park but has also urged a minority to stop the singing that resulted in a 2011 Uefa charge of "illicit chanting".
In 2010, the group displayed a multi-part anti-poppy banner during the club's 9-0 home win against Aberdeen, which resulted in a club apology and prompted Northern Ireland DUP MP Gregory Campbell to speak out against the club.
At a recent Champions League qualifier against Cliftonville, pyrotechnics were set off during the match requiring a stadium announcement instructing fans to desist from such behaviour. The club is now subject to disciplinary action for a contravention of Uefa's safety and security regulations.
The statement adds: "We are sure all our supporters understand that it would be inconceivable and irresponsible for the club not to deal with this issue with the utmost seriousness.
"We are sure our supporters will also agree that we have given those fans within this section every opportunity to change behaviour.
"Celtic, of course, was instrumental in developing this section with supporters in good faith, ensuring that other supporters were moved from their seats to allow this area could be created. We have welcomed the colour and atmosphere which supporters in this section have brought to Celtic Park.
"We have no desire to take this action and we have tried to deal with these issues in the proper way through dialogue and mutual respect.
"If the club were to receive assurances on safety then we may look at this situation again."