Cameron Jerome and Robert Heys admit betting offences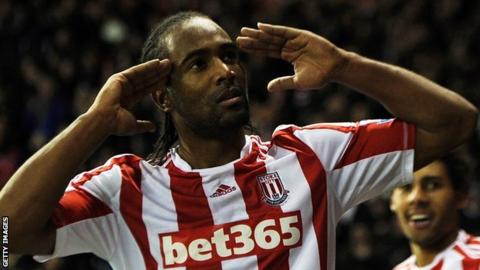 Stoke City striker Cameron Jerome and Accrington Stanley managing director Robert Heys have admitted breaking Football Association betting rules.
Both Jerome and Heys were charged with breaches of the FA's rules "in relation to a number of betting offences".
They will now face hearings on dates still to be determined.
BBC Sport understands Jerome's charge is not related to match fixing or betting on games he was involved in.
A statement from the Potters read: "Jerome accepts the FA charges made against him in relation to breaches of its betting rules.
"Cameron has admitted the charges and will in due course attend an independent regulatory commission, at which he will be supported by the club.
"The club or the player will not be making any further comment at this time."
A statement from Stanley read: "Accrington Stanley can confirm that Robert Heys has accepted the FA charges made against him in relation to breaches of its betting regulations, and has elected to appear before a regulatory commission.
"We anticipate the hearing to take place within the next two weeks.
"In the interim Robert has withdrawn from all club duties until the regulatory commission has delivered its findings."
In June, Tottenham midfielder Andros Townsend was fined £18,000 and banned for four months, three of those months suspended, for a breach of betting regulations.
The charges meant that he missed playing for England Under-21s in the European Championship after he withdrew from the squad.