Guernsey FC: League still priority, despite FA Cup debut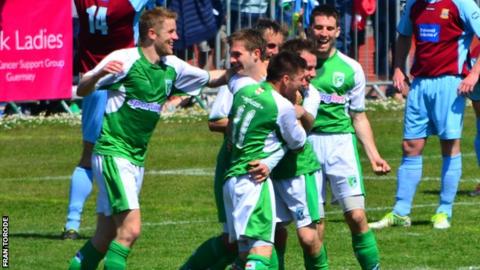 Guernsey FC chairman Steve Dewsnip said the club's league form is still his priority this season.
The Lions will play in the FA Cup for the first time this year and had a high-profile campaign to raise the money to take part.
"The priority's always the league even though we're in the FA Cup and FA Trophy," he told BBC Guernsey.
"But for us, we want to establish ourselves at this level and hold our own," he added.
Guernsey will line up in the Ryman League Division One South, kicking off their season against Herne Bay on 10 August.
"This is 'step four' football which basically means we're four promotions away from the Football League," he added.
"This is the first time that anybody associated with Guernsey FC has kicked a ball at 'step four' level in our shirts.
"We do believe we can hold our own at this level. We take each game as it comes - I know that's a cliché but it's how we approach things."
after the Football Association imposed certain conditions on them to be allowed to take part, forcing the club to share gate receipts as well as paying visiting teams' expenses from home ties.
The club embarked upon a campaign to raise money to take part in the FA Cup and have been drawn away to Crawley Down Gatwick in the preliminary round of the competition.
"Finding sponsors is never easy but we put a campaign out to effectively underwrite our FA Cup and Trophy campaigns and the response we got from the business community was absolutely superb," said Dewsnip.
"We took a huge amount of comfort and satisfaction from that. It proved that we are delivering something that the public on the island wants.
"This is the reason we set the club up - to play at the highest level possible.
"We've clearly enjoyed a bit of success in the first two seasons, but we honestly don't know how far we can take the club.
"We're keeping our feet on the ground and we're quietly confident that we can continue to take the club forward and with a bit of luck on and off the pitch who knows how far we can go?"