Malawi coach Tom Saintfiet drops demand for win bonus
By Frank Kandu
BBC Sport, Blantyre
Last updated on .From the section Football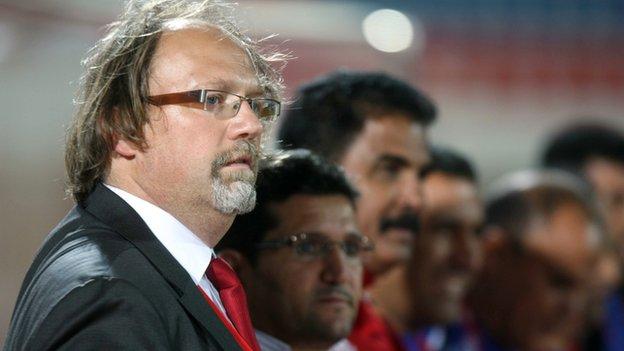 Malawi coach Tom Saintfiet has dropped his demand to be paid a $10,000 win bonus should he lead the Flames to victory away to Nigeria in a decisive World Cup qualifier in September.
The Belgian agreed with the Football Association of Malawi (FAM) in July that he would work for free but would be paid the sum should Malawi, who trail the African Champions by two points, progress to the play-offs.
The news received mixed reactions with one fan going to court to seek an injunction against Saintfiet, although he failed because he was told he was not an interested party.
Flames captain Joseph Kamwendo also reacted angrily to the news, saying the money could have been given to players who receive only $85 for a win.
Speaking at a press conference in Blantyre on Tuesday, where he announced his squad for a friendly against Rwanda in Kigali on 14 July, Saintfiet said he was shocked by the way local media reacted to news of his deal.
"The $10,000 was not my main motivation to come to Malawi. I came to Malawi to win over Nigeria and to qualify Malawi for the World Cup," he said.
"After I noticed that parts of the media were attacking me and the Federation about the $10,000, which was already a little bit strange as you know the former coach earned $20,000 as a monthly salary, I thought why not drop it and giving the money to charity.
"For me money is not the motivation. I came here as a volunteer. I want to bring Malawian football to the next level and try to qualify them for the World Cup. I think if we win the money must go to youth development."
FAM president Walter Nyamilandu believes Saintfiet's biggest motivation is to make a name for himself.
"Reading between the lines, for him if we beat Nigeria his name is going to be all over the world and I think that is his motive that is his driving force," said Nyamilandu.
Nyamilandu said FAM has plans to hike the players' win bonus for the match against Nigeria but could not divulge more information on how much each player will get.
"The game bonus that our players get is not enough. The request to have the money raised has been rejected by government but we are now looking at digging deep into our coughers to set a good amount of money as a once of thing," he said.
Meanwhile. Saintfiet revealed he has dropped some players from the squad that played at the Cosafa tournament in Zambia for disciplinary reasons.
"It's not for me to talk about what happened at the Cosafa tournament. We have discussed it but I can mention to you that seven players were involved in the issue," Saintfiet said.
Nyamilandu added that some of the players involved have been issued with warning letters while others have had their allowances and bonuses withdrawn.
Among the notable missing names from the 20-member squad are goalkeeper Simplex Nthala, midfielders Fischer Kondowe , Frank Banda, Young Chimodzi Junior and striker Gastin Simkonda.
Malawi squad to face Nigeria
Goalkeepers: Owen Chaima (Big Bullets), Charles Swini (Silver Strikers)
Defenders: James Sangala (Free agent), Moses Chavula(CD Costa de Sol-Mozambique), John Lanjesi ( Blue Eagles), Harry Nyirenda (Black Leopards-RSA), Limbikani Mzava (Bloemfontein Celtic-RSA), Lucky Malata (Silver Strikers), Foster Namwera ( Ferroviario de Nampula)
Midfielders: Joseph Kamwendo (Liga de Malcumana-Mozambique), Chimango Kayira(Big Bullets), Robert Ng'ambi (Platnum Stars-RSA), Phillip Masiye (Blue Eagles), Miciam Mhone (Blue Eagles), Peter Wadabwa (Thanda Royal Zulu-RSA)
Strikers: Chiukepo Msowoya (Liga de Malcumana-Mozambique), Robin Ngalande (Wits Universtiy-RSA), John Banda (Kamuzu Barracks), Gabadhinio Mhango (Big Bullets), Esau Kanyenda (Polokwane United-RSA)