Benin FA President Anjorin will not run for third term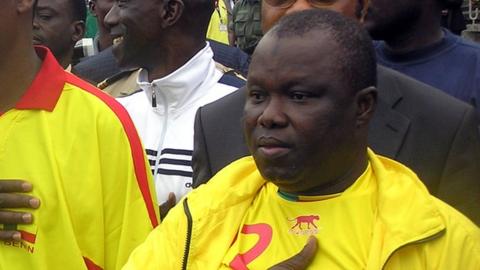 Moucharafou Anjorin has revealed he will not run for a third term as president of the Benin Football Association (FBF) in August's elections.
Moucharafou said he would remain executive member of the Confederation of African Football (Caf) for his full four-year term.
But the businessman, also head of Caf's media committee, added that his decision not to stand will hopefully "preserve peace in the Benin football family".
"I will not be a candidate," Moucharafou said on Benin's Gulf TV. "It is my sincere hope that this decision will bring tranquillity into Benin football.
"I will let my first vice-president Mathurin Chacus deal with organisation of the elections. My last duty will be to hand over to a new president on August 25 at the conclusion of my tenure as a two-term president."
FBF will hold its presidential election on 24 August.
"The announcement not to run came as a big shock to his supporters, but not the general public," said Assani Chakouri Bob, a sports journalist in Cotonou.
Moucharafou's decision not to contest for a third term could be a sign of his decline in popularity.
It also brings to an end Moucharafou's acrimonious 12 years in the executive committee of the country's football authority.
Back in July 2011, Moucharafou was arrested and interrogated for hours before being arraigned before a court for misappropriation of the federation's funds.
He was accused of embezzling US$650,000 of sponsorship money from a mobile phone company between 2008 and 2010 and was remanded in custody at the Cotonou Civil Prison, pending a trial.
Moucharafou is a very close ally of Confederation of African Football (Caf) president Issa Hayatou, and his his arrest further heightened the tensions within the FBF as a rival group claimed he had no legitimacy.
The crisis started in January 2011, when 12 of the 15-member executive committee resigned, accusing Moucharafou of being a dictator.
Fifa intervened and settled the matter, leaving Moucharafou as the BFF president even though the rival body insists it does not recognise him.
The eventual trial was not made public and a verdict over alleged embezzlement was never announced.