Bury FC: Kevin Blackwell's side looking up after surviving 'oblivion'
By Marc Higginson
BBC Sport
Last updated on .From the section Football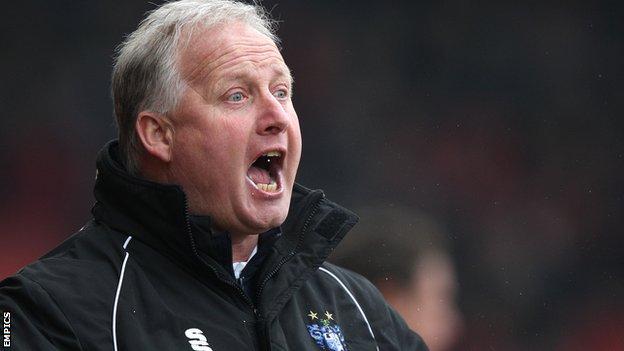 A little over two months ago, two men were sitting in a van on Gigg Lane - padlock at the ready - waiting for a phone call to close down Bury Football Club.
That phone call to lock the club up never came as, following weeks of negotiations, a takeover was completed by new chairman Stewart Day and the Shakers' transfer embargo was lifted.
But it was a close call.
"We were 24 hours away from the club closing," manager Kevin Blackwell told BBC Sport. "The fact the club couldn't afford a lawyer to transfer the deeds from the old regime to the new regime shows how desperately short of money we were.
"I'd been through it all before, but at least with Luton and Leeds they had the chance to go into administration - this club couldn't even afford that. It was as bad as it could have been without the club caving in."
While the club teetered on the brink of "oblivion", as Blackwell describes it, the manager was having to deal with the fall-out. As if a relegation battle wasn't enough, the former Sheffield United manager was having to worry about whether his players were going to be paid.
"People don't understand how hard it is to look at people and ask them to give you 110% knowing there might not be any wages for them at the end of it all," said Blackwell, who said some of his players turned out for free last season. "That was difficult for me, I've been there too often.
"At Luton I paid the mortgage for a couple of my players for a couple of months. I knew Bury didn't have any money in terms of going out and spending £1m on a player but was led to believe they were financially able to run the club, only to find out that wasn't the case.
"All the things that went on from there made me very angry."
The club was saved - almost 11 years to the day since they avoided extinction the first time. Then, they moved out of administration thanks to a supporter-led campaign, which was spearheaded by Neville Neville, the father of former England internationals Gary and Phil.
Property developer Day is responsible for helping to secure Bury's future this time - and the 31-year-old is determined not to allow the "dark days" to return.
But can supporters expect the club to be bankrolled by a man who made his money specialising in the building of student accommodation in Lancashire and Yorkshire?
"We're well on the way to recovery," said Day. "We have paid off all the debts and are in a position where we are self-standing. We have put a lot of capital in to pay off the debts and have other funds available but I'm not going to throw millions and millions of pounds at this project.
"We have a five-year plan but it's not a boom or bust scenario. I want the football club to have a structure and foundation so we don't see any dark days again."
This second reprieve gave Bury, who finished 22nd in League One last season, a fresh start but no squad with which to work. A long summer has followed for Blackwell and his coaching staff.
With a transfer embargo lifted, Blackwell built a football team from scratch.
Bury, who had an average attendance of 2,749 last season, have been the busiest club in the transfer market this summer, making 17 signings.
On Tuesday night, they knocked League One Crewe Alexandra out of the Capital One Cup. Their reward? A trip to Premier League Norwich City in the next round.
"I brought in 25 trialists on the first day of pre-season so I could actually do a pre-season," said Blackwell, who joined the club as manager in September 2012.
"We had lads in from Spain, Italy, Portugal, France and Brazil. We worked them very hard physically.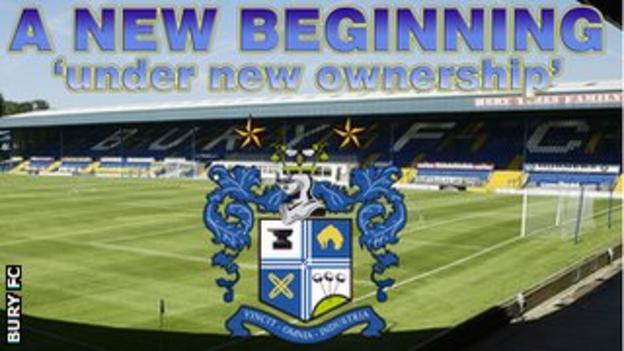 "I need to know whether they will shirk it, or roll their sleeves up, if we are stuck down in Exeter and it's chucking down with rain."
Blackwell brought in Rwanda international Jessy Reindorf and American defender Euan Holden - the brother of Bolton Wanderers midfielder Stuart - who had spent time with the club last season on non-contract terms.
But with so many new players, how do you get them to gel? Once training is done with, Blackwell spends his afternoons immersing his new boys into the club. From pointing out the kettle to recommending places to eat and shop in the town, the manager has done it all.
But does he know everyone's name?
"Many of the players don't know each other, and I don't know the players," admitted the 54-year-old. "One of the players had a word with me last week because I'd forgotten his name, and I said, 'listen son, I don't know anybody's name - never mind yours'."
While the players get to know each other over a brew, or in the local shopping centre, they can do so in the knowledge that no stone will be left unturned in making their stay at the club feel as comfortable as possible.
A new gym has been installed, the dressing room areas have been refurbished and the club has spent thousands smartening up their offices and hospitality rooms.
In the club's reception, a giant image of Gigg Lane greets visitors with the words 'A new beginning' and 'Under new ownership' plastered over it.
"When the new chairman came in, he left me to get a team operational and his remit was to get the place smartened up and finances sorted out," said Blackwell.
"Stewart built a new gym inside three weeks, we are developing the training ground and we have also looked at our travel and preparation to away games.
"Now I can be proud when I show new players around the place. They are no longer pulling their face about Bury, now they think we look sharp and professional.
"The next stage is putting plans in place where we can grow the club in a sustainable fashion. The fans, directors and everyone connected with the club know that if we go chasing the glory, and don't achieve it, there is only one way we will end up going - oblivion."
We will never know what would have happened to Bury Football Club if those two men in the van had fitted the padlock. Bury fans can only hope their new chairman and manager hold the key to a brighter future.
The BBC Sport website will have a feature on football below the Premier League every week as part of our Football League Friday series.