Rangers: Jim McColl will not increase stake at Ibrox
Last updated on .From the section Football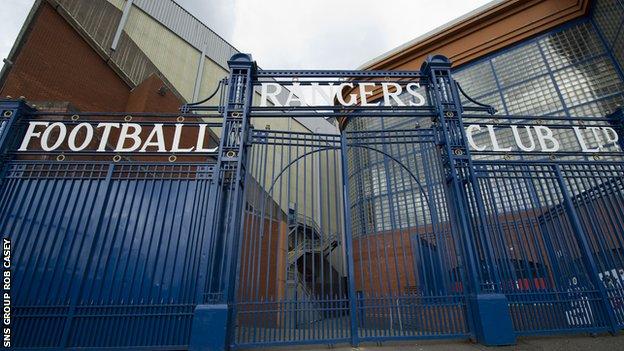 Former Rangers chief executive Charles Green has invited Jim McColl to place £14m in a bank account by Friday for a 28% share of the Ibrox club.
However, the engineering tycoon insists he has no interest in increasing his small holding in the Scottish side.
McColl will instead put his weight behind the calls for boardroom changes backed by ex-chairman Walter Smith.
"I am a small shareholder and have no intention of increasing my position in the short to medium term," McColl said.
He will now use his influence within the group of shareholders who last week called for former PricewaterhouseCoopers Scotland executive chairman Frank Blin and former director Paul Murray to join the board.
"This is a demand for change by some very concerned investors, fans and other stakeholders," added McColl.
"Things have to change to allow the club to move forward with ambition and confidence.
"The board needs to be constructed to reflect balance, independence and experience to operate in the best long-term interests of the club, fans and shareholders, rather than the interests of a small clique."
Green is returning to the club he left in April as a consultant, having led a consortium to buy the club's assets and business for £5.5m last summer.
McColl, whose personal wealth was estimated at £1bn in last year's Sunday Times Rich List, was involved in an unsuccessful bid to purchase Rangers immediately after Green had taken control.
He added: "Let me make it very clear, I am not seeking to join the board or to increase my shareholding in the club.
"I am 100% focused on my own businesses and the strategy which I have agreed with the investors in my funds. I am duty bound to honour that agreement.
"This is not because I don't believe investing in Rangers would be a good investment, it is because of the commitment I have made to my own businesses and to my partners.
"On the contrary, I believe that with a strong, reconstructed, effective and highly competent board to restore financial transparency, stability and success to the club, it is a very attractive investment opportunity."
Speaking to Sky Sports, Green had accused the faction calling for boardroom change of "messing with the minds of Rangers fans".
"What I say to Jim McColl, the world's richest Scotsman, is put £14m in a bank account by Friday of this week and me and my consortium will deliver to you 20m shares," said Green.
"That is about 28% of this club and then I will know that you are serious about it. You have then invested some cash in the club you want to run.
"However, you are not going to do it without putting some money on the table and, up to today, and after 18 months, none of you have done it."
Green was not surprised by Smith's resignation, suggesting the ex-Scotland boss had indicated his intention to step down "three or four" times.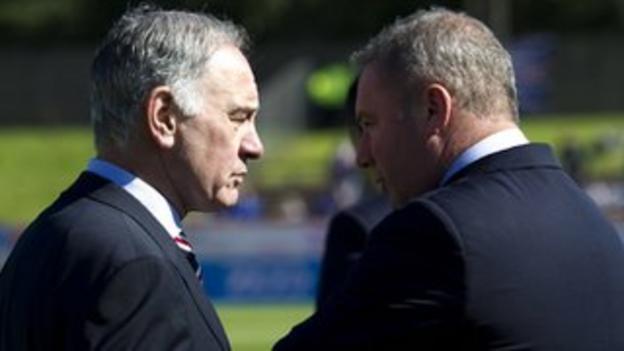 "It's sad for the club that Walter has stepped down but the club has to look forward and not backward," he said.
Manager Ally McCoist called Green an "embarrassment to the club" following Saturday's League Cup loss to Forfar, angered by an interview in which the Yorkshireman said the club needed to win a cup competition this season.
"It wasn't a great relationship and the whole world knows it," Green said of his dealings with McCoist.
"This club has the second biggest wage bill in Scotland, the biggest history and reputation in Scotland. Fans expect that he wins a cup as well as the league and Ally knows it - otherwise we're not getting value for money, it's not up to standard.
"We should have been on a plane today going into Europe, like Celtic. We're never going to get there with the old guard, with Paul Murray."