Will 2013-14 be the most gripping Premier League season yet?

By Phil McNulty
Chief football writer
Last updated on .From the section Football789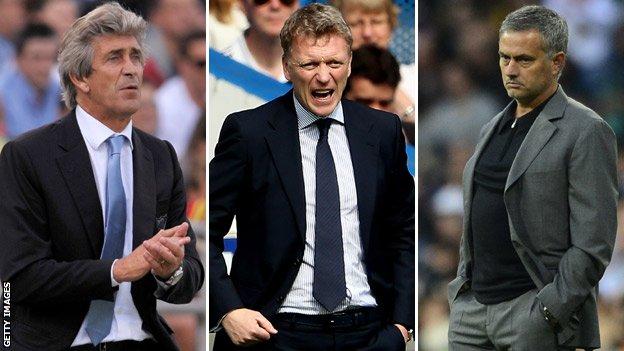 The Premier League's natural order looked locked firmly in place last season as Manchester United reclaimed their crown from Manchester City and Chelsea moved into third place.
If normal service appeared to have been resumed, a shift of the greatest significance in scenery backstage has laced this forthcoming season with a glorious unpredictability at the top end of the table.
All three clubs have new managers, making it one of the most eagerly anticipated in the league's history.
The smart money will be placed on the same faces finishing at the sharp end - but the signs reading "Under New Management" at Old Trafford, Etihad Stadium and Stamford Bridge mean any attempt to predict final placings is hazardous.
Manchester United's romp to their 13th Premier League title was soon overshadowed by the shock retirement of Sir Alex Ferguson after 26 years, although his enduring influence can be seen in what seemed to be his hand-picked appointment of fellow Scot David Moyes from Everton as successor.
Joining this revamped managerial power base is Manuel Pellegrini, brought in to calm Manchester City after the turbulence of Roberto Mancini. There is also the added value of pure theatre in the shape of Jose Mourinho returning to Chelsea.
As well as good fortune, on which so much can depend, key factors will be how these managers adapt to new surroundings - or in the case of Mourinho's return at Chelsea, how successful he is at going over the old ground he covered so gloriously once before.
How will this new rivalry play out as the season unfolds? How will the removal of the Ferguson factor have its impact?
Moyes was widely recognised by his peers for his fine work in 11 years at Goodison Park, establishing Everton as a permanent top-10 team with his shrewd building work over that lengthy period.
He may not have won a trophy, nor had any measure of success in Europe but, placed against his financial restrictions, he will regard that as a job well done.
No amount of work at Everton could prepare Moyes for the sheer scale of Manchester United and the instant demands made upon him, despite the security of the six-year contract handed to him on arrival at Old Trafford.
Ferguson left behind something of a poisoned chalice with an unhappy Wayne Rooney. It is also clear that Moyes feels he has to tackle a long-standing United weakness in central midfield.
He has been handed a tough start. After opening at Swansea City, Moyes will tackle a first Old Trafford league meeting against Mourinho's Chelsea, before a visit to Liverpool. That is a journey he never made successfully, in fact on many occasions timidly and miserably, in his time at Everton.
It does, however, offer him the opportunity to make his own good first impression on any United fans who might have wished for a more glamorous successor to the great Ferguson.
In previous years, Moyes had a very warm relationship with Mourinho and so far that respect has continued - despite Chelsea parking their tanks very visibly on United's lawn in pursuit of Rooney.
But rivalry, especially of the sort United and Chelsea will have this season, can do strange things to personalities.
Remember the antipathy between Ferguson and Arsene Wenger before the thaw that coincided with Arsenal's retreat as a serious threat?
Remember the short span of cordiality between Ferguson and Rafael Benitez at Liverpool, until the Anfield side showed brief signs of stirring once more under the Spaniard?
There may not be rancour between Moyes and Mourinho but they will fight their corner fiercely. Expect no less.
If Moyes has a challenge at United, then the same awaits the so far serene Mourinho at Chelsea.
"The Special One" seems keen to portray himself as a wiser, more mature figure than the young streetfighter who brought successive titles to Chelsea before his relationship with owner Roman Abramovich cooled.
He wants the world to know his subsequent experiences at Inter Milan and Real Madrid return him to the Premier League as a more conciliatory character, focusing purely on his business at Chelsea.
But this is Mourinho before a ball has been kicked in anger, before any perceived contentious decisions have been made. The Mourinho calm may just be before the Mourinho storm.
This proud, and dare we even suggest it vain, man will not want to have a second Chelsea spell that does not bring the same successes as his first. And, of course, Chelsea claimed the not inconsiderable honours of the title, the FA Cup,Champions League and Europa League in his absence. He is hardly returning to a club on its knees.
Introduced to this, the separation between Moyes at United and Mourinho at Chelsea, is the calm, composed figure of Chilean Manuel Pellegrini, 60 next month, as Manchester City's new manager.
Pellegrini is the symbol of what City called their "holistic" new direction when the confrontational Mancini was sacked 12 months after winning the club's first title in 44 years.
Dressing room unrest and general ill-feeling played a big part in Mancini's downfall but many City supporters made it clear they were unhappy at his departure. Mancini had given them back trophies, pride and credibility and they felt he deserved better.
Pellegrini, however, is a phlegmatic and dignified character who is unlikely to become involved in any heavy verbal exchanges of the so-called "mind games" which even the master Ferguson eventually admitted were vastly over-rated.
He has already been backed to the sum of around £90m to acquire Alvaro Negredo,Jesus Navas,Fernandinho and Stevan Jovetic.
City will also hope there will be a renaissance of those who appeared to become disaffected under Mancini's hardline regime, such as goalkeeper Joe Hart and captain Vincent Kompany.
Some have pointed to Pellegrini's failure to win the big trophies in Spain - but this does a serious injustice to a man hugely respected in the coaching community.
He has done work of great substance, taking Villarreal to the Champions League semi-finals in 2006, where they lost to Arsenal, and was contentiously denied a similar achievement with Malaga last season by two late goals against Borussia Dortmund in Germany - all achieved against the backdrop of serious financial problems.
Pellegrini's default position is attractive attacking football. He lasted only one season at Real Madrid but most close observers believe he was more the victim of the relentless pursuit of the "Galacticos" policy, than any shortcomings of his own. He was reportedly never an advocate of the signings of Kaka and Karim Benzema.
It is within this context that his track record must be placed.
Pellegrini will not shy from the challenge presented by Moyes and Mourinho, while Arsene Wenger will surely be attempting to move his work on to another plane after another barren year.
There is intrigue elsewhere. Can Andre Villas-Boas build on the good impression he created in his first season at Spurs despite missing out on the Champions League? Can Liverpool's Brendan Rodgers overhaul neighbours Everton, who have a new manager of their own in Wigan Athletic's FA Cup-winner Roberto Martinez?
All eyes, however, will be on that battle at the top - and on those man occupying the managers' offices at Old Trafford, Etihad Stadium and Stamford Bridge.