Wayne Rooney: Man Utd and Chelsea play high-stakes game
Last updated on .From the section Football709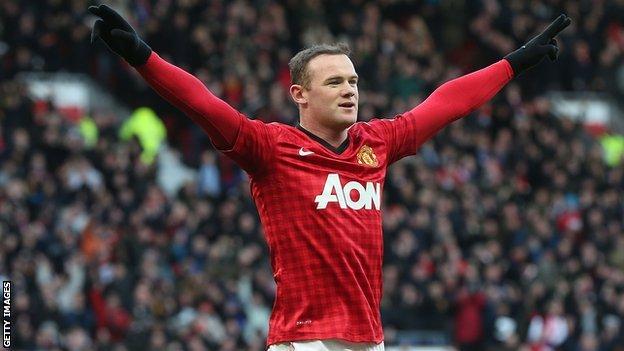 It has been a summer of the statement signing, a summer of shadowy sagas and slow progress.
Barcelona signed Neymar, Real Madrid want Gareth Bale. Monaco signed Radamel Falcao, PSG bought Edinson Cavani. Arsenal want Luis Suarez, while Manchester United are refusing to give up on Cesc Fabregas.
And Chelsea, of course, want Wayne Rooney.
There is a quiet confidence in the corridors of power at Stamford Bridge that the England striker will be a Chelsea player when the transfer window shuts on 2 September. By hook or by crook.
Jose Mourinho has always admired Rooney. At Inter Milan and then at Real Madrid, he flirted from a distance, safe in the knowledge that while Sir Alex Ferguson was in charge it would never lead to anything more. And yet the Special One's return to English football has coincided with an opportunity, one created by Rooney's discontent and then by Ferguson's sudden retirement.
Clubs and managers, especially newly installed ones, have never been under more pressure to deliver that marquee signing, a statement of intent.
While David Moyes hopes Fabregas will be his, Mourinho only has eyes for Rooney.
In one fell swoop, the Portuguese sees the chance to strengthen his side by making the 27-year-old a focal point, rather than the bit-part player. But he also sees the chance to deliver a telling blow in the title race before the season even begins.
Even without Rooney, Chelsea look a side capable of pushing United all the way. But with him, many would consider them favourites for the title and it would give the Blues a commercial boost by adding a man who shifts replica shirts like few others, with only Robin van Persie selling more last term.
It is for those reasons that United remain such reluctant sellers and will continue to be.
In simple terms, Rooney's situation is clear. The player wants to leave. Chelsea want to buy him. United do not want to sell, not least to a club that will challenge them for the title this year.
But there is no easy way out, no simple solution. And yet the pressure will grow on United as the season approaches. Rooney is very likely, at some stage, to submit a formal transfer request.
Sources close to the player have already expressed his anger and frustration. But a written document would be the first time the player has formally confirmed that he wants out.
Rooney has no issue with Moyes. The men have spoken on a number of occasions since the Scot took over from Ferguson in July, even as recently as the weekend. But in Rooney's mind, the damage has already been done and is irreparable. He is understood to have reiterated his feeling that the time has come for a fresh challenge when he spoke to Moyes in recent days.
United may ultimately decide that, whatever Chelsea offer, the risk of seeing a rejuvenated Rooney firing Chelsea to the title at their expense is one that they are simply not prepared to take.
The consequences are likely to be considerable, though. No club wants a disillusioned player on the wage bill, let alone one who earns around £250,000 per week. And no manager would relish the constant questions and bickering.
Then there is the money. Rooney has two years to run on his contract. Assuming he does not sign a new deal, United are likely to miss out on as much as half of the £35-40m transfer fee they might get for him this summer. And were he to sit tight, Rooney would walk away from Old Trafford for nothing in the summer of 2015.
There are some at United who are concerned that Rooney will never be the player he once was. That his natural body shape and lifestyle mean he will not play into his late 30s as Ryan Giggs and others have.
Moyes has given no guarantees to Rooney and in pre-season appeared to suggest his importance to United was as back-up should Van Persie get injured.
But if United no longer rate Rooney as an automatic first-choice and Chelsea do, then perhaps it is understandable that his head has been turned, especially with a World Cup on the horizon.
Brazil 2014 is a major factor in Rooney's thinking. England may not have seen the best of him since Euro 2004 but he believes that is down to not playing regularly as a central striker, having been pushed wide and even into midfield in order to allow others to shine at his expense.
Rooney sees Chelsea as opportunity to revitalise his career alongside a manager who, a number of England team-mates have told him, will make him feel 10-feet tall. He has not played in public during pre-season but those close to him say he is fit and ready. Two injuries, both prompting conspiracy theories, have seen him train on his own while United have toured the world.
Ferguson could not have handed Moyes a more steady and successful ship. And yet the one issue that did remain unresolved has still yet to be settled.
Moyes is wary of making the wrong decision, knowing Rooney could yet come back to haunt him even if he is unlikely to be wearing blue by the time Chelsea visit Old Trafford for the Scot's first home match in charge of United on 26 August. But he may also see an opportunity to offload an unhappy player, recoup the best part of £40m and perhaps sign a hungry replacement.
Moyes wants to act decisively, not only to prevent the issue from rumbling on, but also to show he can match Mourinho stride for stride in the power games. It is the kind of headache a manager could do without as he begins his first season at one of the world's biggest clubs.
For Rooney, Moyes and Mourinho, the stakes could not be higher.