England beach soccer team aiming to restore national pride
By Jonathan Jurejko
BBC Sport
Last updated on .From the section Football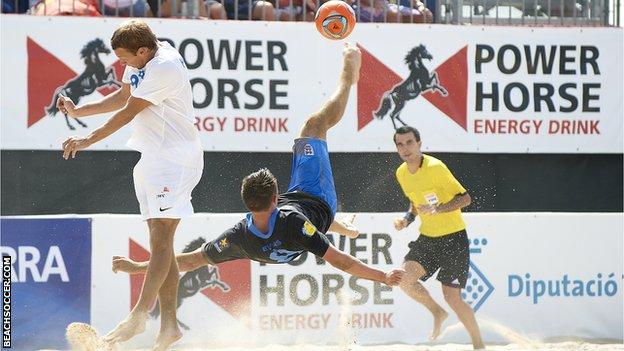 While the UK basks in the glory of another successful sporting summer, it has been far from bright for England's international footballers.
And England's women followed suit as they failed to reach the knockout stages of Euro 2013.
However, one national side is aiming to restore England's wounded pride - and that is the men's beach soccer team.
Led by player-manager Terry Bowes, they have won their last two tournaments, recording seven straight competitive victories in the process.
Now the team, which includes a taxi driver, a boat builder and a marine painter, are in Spain preparing for the finale of the Euro Beach Soccer League, which begins on Thursday, knowing another success will propel them into the continent's top division.
"We're hoping to shine in a disappointing summer where England's international football teams have failed," says head of England Beach Soccer David Jones.
England are in Division B of the Euro Beach Soccer League (EBSL), alongside the likes of Czech Republic, Estonia and Hungary, but will be promoted to Division A if they win this week's Superfinal in Torredembarra, a coastal resort just south of Barcelona.
Eight teams are competing for the final place in the top tier and are split into two groups of four, playing each other once, with the respective group winners meeting in the final.
It is the first time England, who play Czech Republic, Hungary and Greece in their group, have qualified for the showpiece event and caps a dramatic turnaround in their fortunes.
After failing to qualify last year for the Fifa Beach Soccer World Cup, which takes place in Tahiti next month, Bowes brought in some younger players and the new-look team have exceeded expectations in 2013.
In March, they beat Division A side Germany on penalties at the International Beach Soccer Cup in Thailand - "that is rare for any English team!" jokes Bowes - before winning their first tournament at the EBSL Regional Qualifier in France. That was followed by another trophy - the BSWW Sweden Cup - in Malmo last month.
"Beating Germany was a big result for us and it has given us momentum," says ex-Arsenal trainee Bowes, who played in the same Gunners youth and reserve teams as England left-back Ashley Cole. "Now the mood in the camp is pretty buoyant ahead of the Superfinal."
Not that Bowes or England are getting carried away. Despite their recent success, they are not considered one of the favourites to win in Spain and are generally seen as one of the lesser lights in the beach soccer world.
That is largely because they receive no financial assistance from the Football Association and, since forming in 2002, have been bankrolled by Jones and his predecessor John Hawkins, who stepped down as chief executive last year.
"It cost me about £15,000 to £20,000 a year to run the team," says Hawkins. "We got some of it back through sponsorship but a lot was just haemorrhaging."
England's resources are limited in comparison to the world's leading nations, who receive considerable financial backing from their respective football governing bodies.
Russia is one of the nations to have invested vast amounts of money into beach soccer, building three indoor pitches and paying for professional players from Brazil - the birthplace of the sport - to compete in their national league.
Even Switzerland - a landlocked country - has an indoor facility.
Countries including Azerbaijan, Nigeria and Estonia have used internationals from their 11-a-side squads in their beach soccer teams, while the Azerbaijan side were on a £10,000-a-man bonus to beat England in a crucial EBSL match.
Hawkins admits England, who do not have a regular stadium but are planning to build one in Lincolnshire resort Skegness, have never been able to offer "anything more than a milkshake" to their players.
"We are the poor relations to some nations. Some throw millions of pounds at it," he says.
Hawkins, who runs a beach event company, set up the UK's first beach soccer tournament in his native Isle of Wight after being inspired by seeing Manchester United legend Eric Cantona embracing the sport.
The Frenchman took to the sand when he retired from football's traditional format in 1997 and his global stardom helped expand television coverage of beach soccer to more than 170 countries worldwide.
Now, the sport attracts about 3,000 players in the UK, with the vast majority based on the south coast of England, London and the Isle of Wight.
"We have gone from nothing. There was no beach soccer in England," says Hawkins. "We started some activity sessions, got people playing and now the national team is enjoying success."
But it is still a long way away from being a national sport and head coach Bowes, who is also England's most-capped player after more than 130 international games, admits this concentrated catchment area is "a bit of a problem".
"We need to open up to other areas of the country and we have tried that by taking the national tour to Bridlington in East Yorkshire this year," he adds.
"But we only have leagues on the Isle of Wight and in Jersey where players play regularly - and that's only every week or every couple of weeks.
"A lot of it is word of mouth. We just have to find players here, there and everywhere."
Bowes, 33, started playing after being encouraged by players' union, the Professional Footballers' Association, to get involved when his hopes of forging a professional career were ended.
The Londoner, who now works as a black cab driver in the capital, started his football career at Arsenal and helped the Gunners win the first FA Premier Youth League in 1998.
But shortly afterwards he was released by manager Arsene Wenger without making a first-team appearance and, after a short spell at Ipswich Town, dropped down to non-league.
"When I was released by Ipswich, the PFA offered me the opportunity to try beach soccer. A few people got into playing the game like that. When I started it was mainly young lads who had been released or a few ex-professional players."
Former England internationals Matt Le Tissier, John Scales and John Beresford all switched to the sand in the early 2000s, but few former professionals have made the move since.
"The sport has moved on from those days," says Jones. "You can't rely on just technical skills, you need to be fit and quick to adapt your body on the soft sand, which means you can't carry former professionals in 30-degrees heat."
But nifty footwork and acrobatics are pre-requisites in an entertaining and fast-paced sport where there is a shot on target every 30 seconds.
"One of the best Premier League goals was Wayne Rooney's overhead kick against Manchester City in 2011," says Jones. "That is an example of a typical beach soccer goal and, most probably, there is one of those every game."
Bowes adds: "We know beach soccer is never going to compete with football in England but it is a fun sport which could help players develop their technical skills."
That has been the thinking of the Brazilians since the game sprung up on the sands of Rio de Janeiro's famous Copacabana - and the five-time World Cup winners have not done too badly on the 11-a-side stage.