Sheffield Wednesday: Dave Jones angry with Johnson 'stupidity'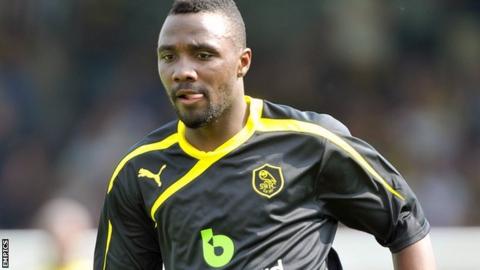 Sheffield Wednesday boss Dave Jones has called Jermaine Johnson's sending off against Rotherham "unacceptable".
The Jamaica winger was sent off for a headbutt on Millers midfielder Ben Pringle as the Owls fell to a 2-1 defeat in the Capital One Cup.
Jones told BBC Radio Sheffield: "It's just total stupidity. You can't headbutt someone. He's done it before and he's been told.
"It's completely unacceptable and I can't defend it and neither can he."
Jones added: "We were trying to get back into the game and that was hard enough with 11 men never mind with 10.
"He'll be punished by the club and rightly so because I'll lose him for three games now."
The 33-year-old Jamaica international, who signed a new one-year deal in the summer, went on Twitter to apologise to Wednesday supporters.
He tweeted: "Not looking for anyone to be sorry for me. I just want to apologise to all the fans that came to the game tonight. Hope I can make it up to you guys.
"Know it's not acceptable, but I really want to say I'm sorry from the bottom of my heart for what happened tonight."
The Owls will now be without the former Bradford winger for the Championship fixtures against Burnley, Leeds and Millwall.