Europa League: Rikard Norling hoping for a Malmo miracle
Last updated on .From the section Football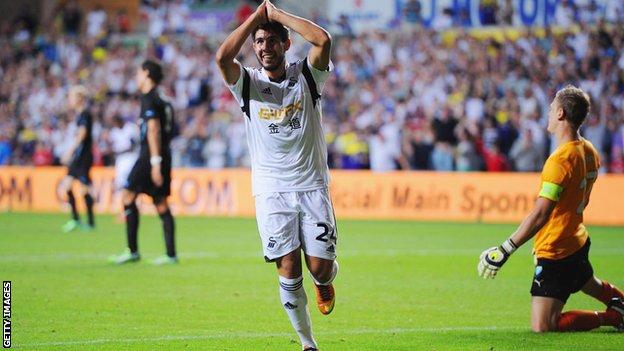 Malmo manager Rikard Norling is hoping for a miracle when his side attempt to overturn a 4-0 deficit against Swansea on Thursday.
But Malmo were outclassed by Michael Laudrup's team in the first leg, though Norling has not given up hope.
"We are giving it a serious try and bigger miracles have happened," he said.
Swansea's progression into the play-off round of the tournament would appear to be a formality and Norling would settle for an improved performance from his team.
"Our focus is to play better than we did last week, especially offensively," he said.
"This is a fun match to play. We are facing a team from the Premier League and that's always stimulating.
"We are playing really well at the moment and on Thursday the performance is the most important.
"If we win 5-0 and move on to the next round we'll dance together.
"If we win 2-0 and get knocked out, but the performance is good, then that's what we have to focus on."
Swansea are in European competition for the first time since 1991 when they were beaten 8-0 by Monaco.