Coventry City: Mathieu Manset joins despite transfer embargo
Last updated on .From the section Football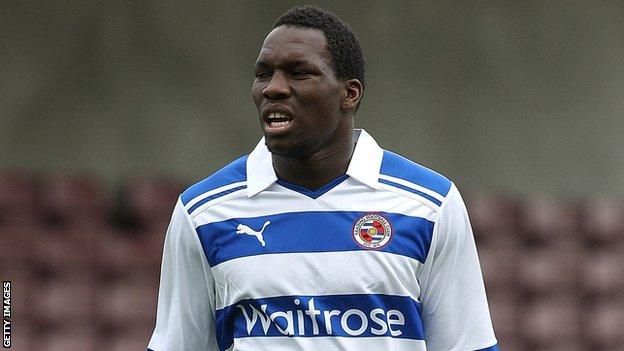 Coventry City have signed former Reading striker Mathieu Manset despite still being under a transfer embargo.
But, this player must be paid a maximum of 75% of the departed player's wages, which in this case is Cody McDonald.
Manset, 24, has been brought in on a one-year deal after leaving Carlisle.
Manset, who has also had spells at Hereford, Reading and FC Sion, has a contract which has the option of a further year and has become Sky Blues boss Steven Pressley's first signing this summer following McDonald's departure to Gillingham.
"The Football League operates a policy of one player out and one player in," Coventry development director Steve Waggott told the club website.
"Therefore the departure of Cody McDonald in the summer enables us to bring in a replacement.
"There are, however, certain conditions to any transfer business being done to ensure that clubs are not increasing their financial risk in their acquisition of new players.
"To ensure that, the Football League insists that any player brought in can only be on a maximum 75% of the wages that the departed player was on.
"Given that condition, it is crucial that we make the best possible use of this opportunity."
The Sky Blues began this season with a 10-point deduction after one of the club's subsidiary companies was left facing liquidation following the rejection of a Company Voluntary Agreement on Friday.
The Football League allowed them to start the campaign, but they have lost their opening two matches.
"We now have an arrangement in place where we can bring a player in under certain circumstances - depending on cost and on players moving out," Waggott commented.
"Ultimately, the Football League are not going to allow us to go out and sign who we want, when we want until the embargo is lifted but this does at least give us some room for manoeuvre."