Europa League: Michael Laudrup seeking Swansea away win at Malmo
Last updated on .From the section Football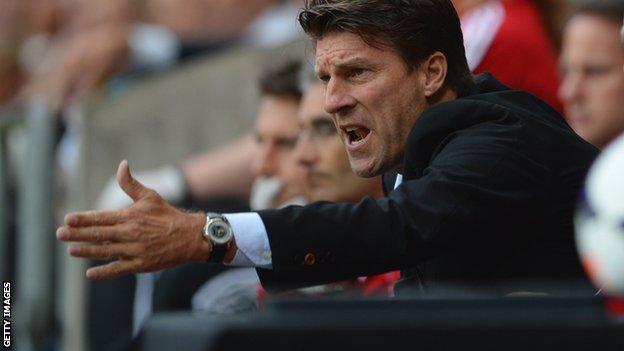 Michael Laudrup is demanding that Swansea do not sit on their 4-0 lead against Malmo and go all out to win the away leg of their Europa League tie.
The Danish manager believes Thursday's game at the Swedbank Stadion can provide a dry run for future tests.
"We're not there but we're almost there after 4-0," Laudrup said.
"But I want to see this as an isolated game, an away game that we have to try to win and perform like an away game in the Premier League."
Laudrup maintains that the priority is to make sure Swansea seal victory against their Swedish opponents in the third qualifying round tie.
That will see the Swans, in their first European campaign since 1991, advance to the play-off round and take them one step away from the group stage.
The group stage sees the remaining clubs split into 12 groups of four teams, playing home and away against each of their pool opponents between September and December.
But Laudrup is only too aware that the Premier League remains the priority and these early season European tussles are perfect to hone his side for the domestic campaign.
Swansea start their Premier League season at home to champions Manchester United on 17 August, then face away games at Tottenham and West Bromwich Albion before the international break for World Cup qualifying games.
"Of course the main target is to move on but it's not only a question of moving onto the next round. I'm very confident we will do that especially after the result of the first game," Laudrup added.
"It's very important as well that we have a very good away performance, and get a result.
"If we can win, perfect. If we can have another clean sheet, even better.
"We have to play in an away game well organised, knowing that there will be times when they are dominating because they are playing at home.
"That will happen in the Premier League as well."