Luis Suarez: Brendan Rodgers tells Liverpool striker to train alone
Last updated on .From the section Football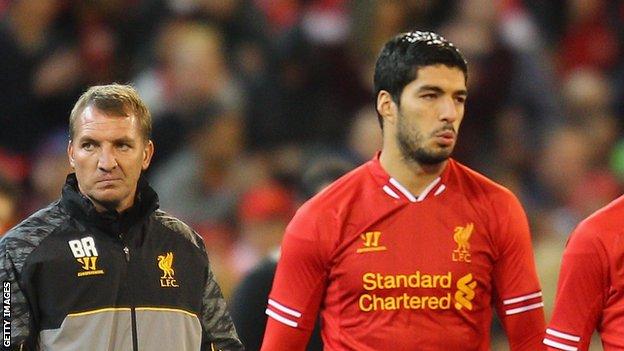 Liverpool striker Luis Suarez has been told to train alone by manager Brendan Rodgers, who says the player has shown "total disrespect" for the club.
Suarez, 26, plans to submit a transfer request this week if a move to Arsenal is blocked.
"There were no promises made and no promises broken," insisted Rodgers.
"The club and his representatives had several conversations and he knew exactly where he was at.
"There has been total disrespect of the club - a club that has given him everything.
"Obviously the remarks I've read are bitterly disappointing - but my job is bigger than that."
Sources close to the Anfield club insist the decision to make Suarez train away from the first team was made before his outspoken interview, which broke on Tuesday, and is down to the player's lacklustre performances in recent friendly matches.
Rodgers added: "I will take strong, decisive action, absolutely. I think Luis knows the support he's had at the football club and that's something that's been unswerving throughout the whole of last season.
"My job is to fight and protect the club. The conversations I've had with him he knows I've had, and they will remain private."
Arsenal have had two bids rejected by the Reds, the latest of which was a pound over £40m and designed to trigger a release clause in Suarez's contract.
However, Professional Footballers' Association chief executive Gordon Taylor explained there is no clause in the player's deal that means Liverpool have to sell him if a club offers more than £40m.
"If there is a minimum offer of £40m then the parties will discuss things but it does not say the club has to sell," said Taylor.
"There is a 'good faith' clause in relation to serious discussions, but I can't say it is a cast-iron buy-out clause."
Suarez is prepared to take the issue to the Premier League to force his exit but Liverpool insist they do not have to sell and Rodgers says Arsenal's offer remains well short of his club's valuation.
The forward took legal action against former club Groningen in 2006 when a bid from Ajax was rejected. He went to arbitration and lost - but was still sold as the Amsterdam side increased their offer.
Taylor will contact both the player and Liverpool in an attempt to help mediate on the matter, with Arsenal manager Arsene Wenger "on standby" to do a deal.
"I just feel, like in any other transfer, it is better for both parties to get around the table to try to resolve it," Taylor added.
"At the moment it is certainly festering and I don't think it is a good situation for the player or the clubs involved."