Cristiano Ronaldo scores twice as Real Madrid beat Chelsea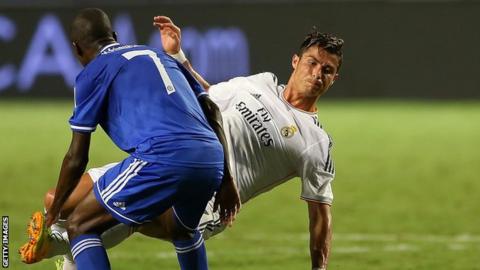 Chelsea manager Jose Mourinho says it was "perfect" that his team made mistakes as they lost 3-1 to a Real Madrid inspired by Cristiano Ronaldo.
Ronaldo scored twice and set up the opener as Mourinho suffered defeat at the hands of the club he left in June.
But Mourinho felt the International Champions Cup defeat was a positive step to preparing for the new season.
"For me, it's perfect we made mistakes so that we have them to work on," he told Chelseafc.com.
"As I said last week, we had five victories in pre-season and zero points.
"Now we have five victories and one defeat, we still have zero points. It's not a drama.
"They play in La Liga, we play in the Premier League. If we meet them in the Champions League and lose it's a different story, but a summer tournament is a summer tournament."
Madrid opened the scoring in the 14th minute as Marcelo beat Chelsea keeper Petr Cech with Ramires equalising.
Ronaldo scored a free-kick from 25 yards out to edge the Spanish giants ahead and sealed the win with a header in the 57th minute.