Blackburn upset won Carlisle fans back - Greg Abbott
Last updated on .From the section Football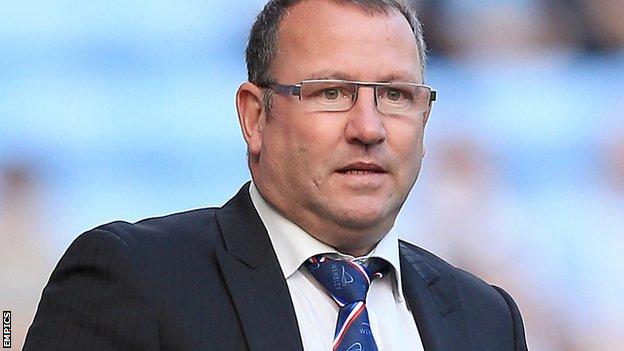 Carlisle United boss Greg Abbott hopes Wednesday's Capital One Cup heroics against Blackburn Rovers have restored the faith of the club's supporters.
The Cumbrians began their League One campaign with a
However, a United squad featuring seven youth-team graduates
"Hopefully we've repaid that and can draw a line under it," Abbott told BBC Radio Cumbria.
"Players have won a lot back. I told the players if they were disappointed [after Saturday] they had to go out there and show the fans how much and, to a man, they can't have any qualms.
"Our team had no right to win that game, with the players they had on the pitch.
"For me it was great to see those the fans clapping and enjoying it. We owed them a double performance."
Among the United youngsters impressing was 17-year-old Patrick Brough, who was making his first-team debut as a substitute.
"We couldn't put him on the bench on Saturday because he wasn't registered and we only made the deadline by minutes," Abbott added.
"I am so pleased for him. I don't think he knows what he's done. He's not a bad player, but I wasn't sure he could handle that against a Championship side, yet he did."
Coincidentally, the man responsible for the ongoing tradition of academy talent at Carlisle, Eric Kinder, left Brunton Park to take up the post at Blackburn this summer.
In the past, Carlisle's production line has been a useful and lucrative source of talent, with Matt Jansen, Rory Delap and Paul Boertien among the graduates to reach the Premier League.
The current crop, which includes Scotland Under-19 international Mark Beck and winger David Symington, are expected to form a big part of the club's immediate future.
Abbott said: "You have to go back to the old days because it doesn't happen anymore to have teams full of academy players, although Crewe did it and have done it successfully.
"Over the next few years we'll be in a position where we'll have to do it."