Sir Bobby Robson National Football Day to honour legend
By David Ornstein
BBC Sport
Last updated on .From the section Football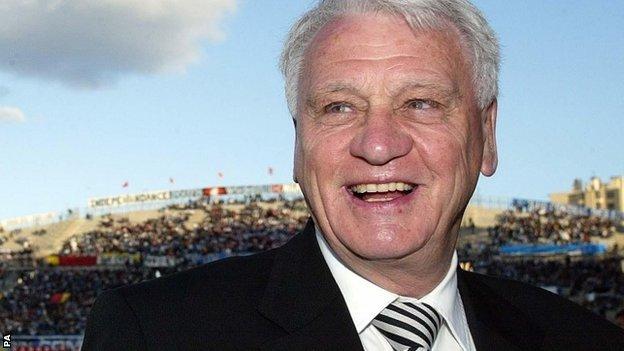 It is rare you find a football manager popular with players and supporters of all teams, admired the world over and widely regarded as a legend of the game - a man who inspired those he worked with and against, and about whom a bad word is rarely spoken.
All of which makes Sir Bobby Robson so special, and it is for this reason that the Football Association is honouring him with a
The former England manager lost his battle with cancer on 31 July 2009 but four years on - and to coincide with the governing body's 150th anniversary - 150 events will take place across the country for the Sir Bobby Robson National Football Day.
Among the plans put in place by the FA is a women's festival at the St George's Park national football centre in Staffordshire, a beach soccer exhibition in Dorset, a Respect course at Netherton United in Peterborough and a tournament and coaching session at AC Paulista FC in Lewisham.
Robson gave Paul Gascoigne his international debut in 1988 and made the midfielder a key part of the side that reached the semi-finals in Italy two years later where England lost to West Germany.
Gascoigne said of his former manager: "The man was phenomenal. I had the opportunity to work with him at the 1990 World Cup and those six weeks were probably the best weeks I've ever had in my life."
A wing-half in his playing career, Robson was an integral member of the Fulham and West Brom squads during the 1950s and 1960s, and also won 20 caps for his country.
After a brief spell as player-coach with Vancouver Royals in the North American Soccer League and an unsuccessful period managing Fulham, he took over at Ipswich in 1969 and guided them to FA Cup and Uefa Cup triumphs in 1978 and 1981 respectively.
Robson's success at Portman Road - they twice finished as runners-up in the old First Division - led to him succeeding Ron Greenwood as England boss after the 1982 World Cup.
The blow of failing to qualify for the 1984 European Championship was softened by a run to the quarter-finals of the 1986 World Cup in Mexico, where England lost 2-1 to Maradona's 'Hand of God' goal and a superb individual strike by the Argentina forward.
Further disappointment at Euro 88 proceeded the relative success of Italia 90.
"We all know how hard it is for a manager to lead an England side to a World Cup finals and Bobby did that twice," said former striker Gary Lineker. "They are pressurised situations. Neither tournament - 86 or 90 - started spectacularly well and he received a lot of criticism. But he was the sort of bloke that would take that himself and make sure the players didn't suffer for it.
"The worst thing you can do as a manager is put the blame on to the players and he understood that. He would take the pressure and the stick. He let the players concentrate on playing football and did not let their confidence be affected by things that were being written about them."
Robson gave Lineker his England debut in 1984 and the former Leicester, Everton, Barcelona and Tottenham frontman looks back on the time with fond memories.
"The first time I ever met him was at Wrexham - it was England versus Wales and I got a late call-up on Monday morning for a midweek game," said Lineker.
"I remember walking in and there were all sorts of star players - Bryan Robson, Tony Woodcock, Peter Shilton, Trevor Francis. They were sat around, all these people who were real heroes to me. Bobby came straight over and put an arm round my shoulder, introduced me to everyone.
"I was a substitute and I remember in the second half he looked down the bench, he was looking at me and he went: 'Garth, get warmed up'. He wasn't the best with names, Bobby."
Robson went on to lift titles with Dutch side PSV Eindhoven and Portuguese club Porto, with more glory at Barcelona before joining Newcastle in 1999. He took the Magpies from the bottom of the Premier League to fourth place in 2001-02, third the next season and fifth in 2003-04.
"As a figurehead for North East football he was huge, but for Newcastle United he was massive because when he came in we were bottom of the league, confidence was at an all-time low and if he hadn't have come in I would probably have left the football club," said former striker Alan Shearer.
"There was just something about him, an aura, that when he spoke to you he knew what made you tick. Even in his last few months at Newcastle he was laughing and joking on the training ground. He'd be first in and last away. He loved to be precise with his time, he hated lateness.
"If the first team weren't in he would be working with the youth teams and reserves. He was at his happiest when he was out on a football pitch. Any autographs that wanted signing - whether for a young kid or an old man - he would have time for you and want to speak to you.
"Everybody loved him because of who he was, what he was and what he represented to football. That wasn't just kept for the North East or Newcastle, that was all round the country and in different parts of the world."