Rickie Lambert: From a beetroot factory to the England squad
By Nabil Hassan
BBC South Sport
Last updated on .From the section Football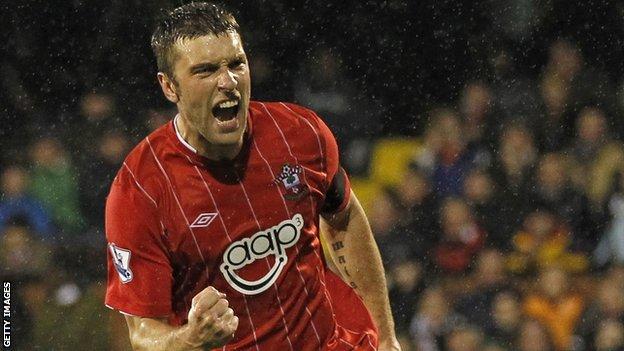 From a beetroot factory to England's frontline: as "rags-to-riches" tales go, Rickie Lambert's is right up there.
Next week the 31-year-old will complete his rise from unwanted lower-league striker to international forward as he links up with England for the first time in a remarkable 15-year career.
That career saw him dropped by his beloved Liverpool as a youngster and then released by Blackpool as a teenager. Lambert, not afraid of a bit of hard work, spent the summer of 2001 working in a beetroot factory, before Macclesfield offered him £50 a week in travel expenses.
But Lambert looks back at that period fondly, saying tough times taught him valuable lessons.
"It made me realise that it is not just going to happen for you," said Lambert. "If you don't do your best, you will have to say goodbye to your dreams."
Over the next eight years Lambert worked his way through the leagues, scoring goals everywhere he went - 18 at Stockport, 28 at Rochdale, 51 at Bristol Rovers - before joining Southampton in 2009.
The Saints, then in League One, raised eyebrows when they paid £1m for the then 27-year-old, but the Merseyside-born striker's goals soon fired the south-coast side into the Championship.
It was at Southampton, Lambert says, that he first realised the responsibilities of being a professional footballer, the move giving him the "kick up the backside" he needed.
Lambert's every kick at Southampton has been covered by BBC Radio Solent's sports editor Adam Blackmore, who says his call-up is fully deserved.
"There are three impressive things about Rickie for me that encapsulate him," Blackmore said.
"His ability to score at every level he's played at, his own reinvention physically, which has seen him go from 'old-fashioned centre-forward' to modern-day striker capable of supplying and scoring goals from all areas and, most impressively, his attitude and demeanour on and off the pitch.
"Despite his success he remains a humble polite man, who just loves playing football and appreciates all the game has given him."
The season following the Saints' promotion, Lambert finished as the Championship's top scorer and Southampton were back in the Premier League after a seven-year absence. Lambert's own journey had taken more than twice as long, but he had finally made it into the big time.
Any doubts he was good enough for English football's top flight were dispelled on the opening day of the season with Lambert coming off the bench to score against champions Manchester City at the Etihad Stadium.
He would score 14 more times in the season, ending as the highest-scoring English striker in the Premier League.
The calls began for a call-up to the England squad, with his manager at Southampton - former Argentina defender Mauricio Pochettino - calling him an "extraordinary footballer".
Former Southampton manager Dave Merrington told BBC Sport in February he felt Lambert was "as good as any English striker in the Premier League", adding: "As a target man he is second to none. He runs the channels well and sees a pass. He can deliver a pass, he works the back post as well as anyone in the country now, including foreign players, and his biggest asset is he gets goals."
Merrington was another who urged England manager Roy Hodgson to take a look at Lambert, though it transpires the player was already on the national team coach's radar.
"This is a man who has come up the hard way," said Hodgson on Thursday. "He started in non-league, and I first came across him playing for Bristol Rovers when I was at Fulham about five or six years ago.
"I remember discussing him as a potential transfer target at the time, but the obvious question was how can a player in League One become a success in the Premier League?
"I think a man who has really worked hard to prove his worth over the years like Rickie Lambert has fully deserved this call-up."