Luis Suarez: Liverpool fans want loyalty and an apology
By James Peacock
BBC Sport
Last updated on .From the section Football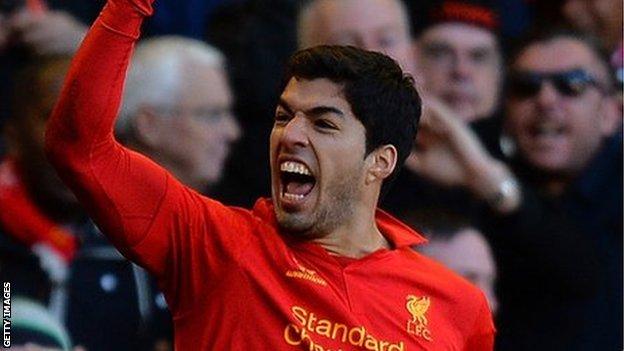 Liverpool fans say there is a way back for Luis Suarez at Anfield - if he apologises and shows some loyalty.
Manager Brendan Rogers has told the 26-year-old to train alone after showing a "total disrespect" to the club by trying to arrange a transfer to a Champions League side.
The Uruguay striker, who has been Arsenal's main summer target and also linked with Real Madrid, said he would consider using legal action against Liverpool if he did not get his way.
Suarez told the Guardian and Daily Telegraph earlier this week that the Reds "promised" he could leave this summer if they did not qualify for the Champions League - but Rodgers has dismissed the claim.
Supporter Jim Boardman, a contributor to the online fanzine Anfield Wrap, said fans were not surprised by what he called Suarez's "selfish" behaviour.
"There are sections of fans who are unhappy with him and if he stays he will have to apologise to them," he said.
"I am sure he can say he's sorry and make it sound like he genuinely means it."
Suarez scored 30 goals in 44 appearances for the club last season but has attracted controversy throughout his career.
Andy Knott, the co-editor of the Liverpool fanzine Red All Over The Land, wants him to leave.
He said: "The club doesn't need characters like that. The way he is behaving I'd take the bare minimum for him.
"I'd be more gutted if [Philippe] Coutinho went. Everyone who is talking to us on social media is saying to get rid of him.
"People always tell me he's a cheat and this and that - but we knew that when we signed him after the World Cup."
The Spirit of Shankly supporters' organisation did not want to comment on the Suarez saga because it is an on-field matter.
But Justin Heron, the founder of the website Kop That, says he is seeing a range of opinion from their international users.
He said: "Older supporters are unhappy about the situation but the younger generation see it differently.
"There is a big section of Liverpool fans who think Suarez should repay the loyalty that the club has shown him and give it 12 more months.
"If we're way off the mark next summer then nobody would be too unhappy if he left.
"Either way, I think there needs to be an apology to Liverpool fans.
"There is a chance that Liverpool would sell him but I think you are talking more in the region of what Edison Cavani or Radamel Falcao went for."