St Johnstone boss Tommy Wright slams 'ungracious' Minsk
Last updated on .From the section St Johnstone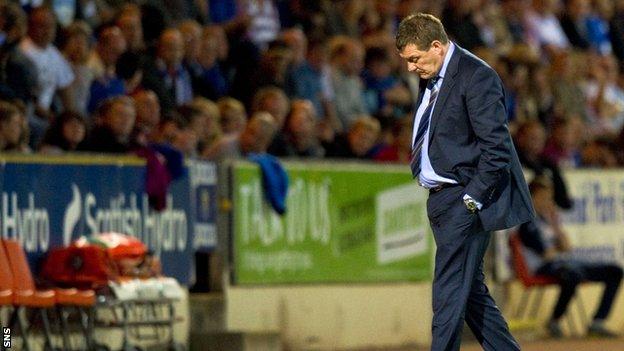 St Johnstone boss Tommy Wright felt Minsk were ungracious in victory after his side crashed out of the Europa League qualifiers on penalties.
A 1-1 aggregate score meant extra-time and then penalties, but the Belarusians triumphed 3-2 from the spot-kicks.
Sergey Sosnovskiy was sent off for violent conduct as Minsk players celebrated at the end.
"We wish them all the best, but I don't think they showed much class in victory," said Wright.
"If that's the way they want to behave, that's their problem.
"If it had been a boxing match, the game would have been stopped."
Milos Rnic's 75th-minute shot levelled the tie at McDiarmid Park at 1-1, cancelling out Stevie MacLean's first-leg strike.
Dave MacKay and Paddy Cregg missed from the spot during the penalty shoot-out, while Vital Kibuk and Syarhey Kazeka were also unsuccessful for the visitors.
MacLean then passed up an opportunity to level at 3-3 with keeper Uladzimir Bushma saving to put Minsk through and end the Perth side's 42-year unbeaten home run in Europe.
"I'm extremely disappointed," said Wright. "I think we put a lot into it, but it was one-sided. I think they had one real shot on target, and that can happen.
"Our keeper played extremely well. We could possibly point the finger at ourselves and say we were a bit wasteful in front of goal and the good areas we got into, and didn't create enough chances with the good possession we got.
"It went down to penalty kicks - we practised them yesterday - but it's a lottery. Unfortunately, we didn't score enough. Maybe they practised longer."
Wright insists his players were well-prepared for the match and should have been awarded a penalty in extra-tmie when Rory Fallon appeared to be fouled in the Minsk penalty area.
And he insists the squad can take plenty of positives from their European campaign, which included an aggregate win against Rosenborg in the previous round.
"We were never really under any pressure and we had a stonewall penalty on Rory, but again, we should probably stick the chance away when it falls," said Wright.
"The players put a lot into the game and a lot into this campaign and they'll be disappointed, but they can wake up in the morning and still feel proud of how they've done in the competition.
"It was just one of those nights where we didn't get the breaks in front of goal and they got that little bit of luck. One little lapse of concentration and a decent strike, and you're behind the eight ball for a while.
"We've got to get on and move on to the next game."