Charles Green: Rangers board to reconsider his position
Last updated on .From the section Football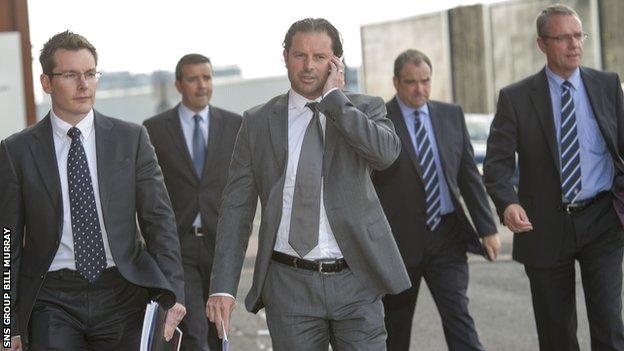 Rangers supporters' groups have called for Charles Green to be stripped of his consultancy role at the club.
More than 200 influential Gers fans met Ibrox chief executive Craig Mather and directors on Thursday.
They say Mather told them he would convene a board meeting within seven days, at which former chief executive Green's position will be considered.
Club funds have shrunk to £10m despite a stock market flotation and more than 30,000 season-ticket sales.
In December, the initial public offering (IPO) fundraising on the Stock Exchange brought £22m into Rangers.
Green quit as chief executive in April before being cleared by an internal investigation over claims of close links with former owner Craig Whyte during last year's takeover.
He returned to the club as a consultant last week, sparking a chain of events resulting in a public spat with manager Ally McCoist and chairman Walter Smith resigning on Monday.
A joint statement from the Rangers Supporters' Association, Rangers Supporters' Assembly and Rangers Supporters' Trust said: "We are extremely concerned to learn that there is only £10m left in club funds after the IPO and season-ticket monies have gone into the club and will be seeking more detailed answers from the club's board. We will seek to convene a follow-up meeting as soon as possible.
"We welcome the news that Craig Mather will convene a board meeting within seven days to consider the future of Charles Green.
"If the board reflect the mood of the room at the fans' meeting, then Mr Green will be stripped of his consultancy role."
On his return to Ibrox, Green said McCoist had to win a cup as well as League One this season and said former manager Smith had described last season's side as "the worst Rangers team you have ever seen".
The fans' groups statement said Green's "utterances regarding Ally McCoist and Walter Smith were horrifying".
It added: "We are glad that Mr Mather has committed to talking to [Rangers shareholder] Jim McColl and his colleagues. The issues facing the club are very clear and urgent - with good will they can be resolved without resort to an EGM."
And that's something McCoist also wants to avoid.
"I just hope something gets sorted out sooner rather than later." he said.
"If there's no need to go to an EGM and things can get sorted out, then fantastic. "If it has got to go to an EGM, then these are all decisions which are outside my control.
"I can't have an effect on them so there is no real point in me worrying about them."