Luton Town: John Still wary of Conference unpredictability
Last updated on .From the section Football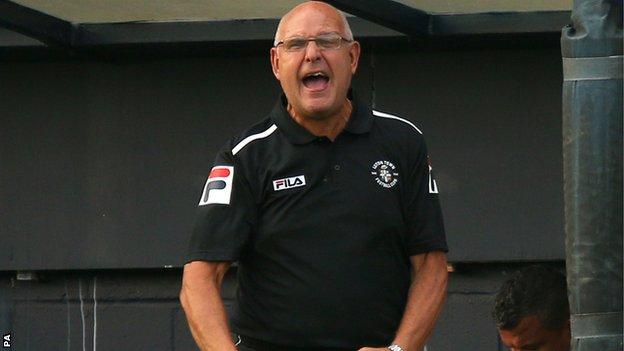 Luton manager John Still is conscious of the Football Conference's often unpredictable nature in early season.
Southport host the Hatters on Saturday having finished one place above the relegation zone last season.
"Every August there are teams with a new coach, fresh hopes and with supporters anticipating a good season," Still told BBC Three Counties Radio.
"It makes all teams dangerous at the start of the season. We must be focused in every game or we'll come unstuck."
In the Conference Premier last season, Kidderminster Harriers did not win until their 11th game of the season and lost their first five matches.
Remarkably, they eventually finished second but lost out to Wrexham in the end-of-season play-offs.
"Obviously, some teams start fast and fade and others take a while to get going but what happened last season with Kidderminster is very rare," Still added.
"Personally, I'm of the view that the season is not really underway until you're eight games in but by and large the best teams start well and remain consistent.
"In the Conference you're never sure who will be up there. When I was at Dagenham I think we were 40-1 at the start of the season we got promoted to League Two.
"To be honest, every league is unpredictable. If there's a man out there who can predict the top two from the Premier League down to the Conference then I tell you, he'll be sat on his yacht out in the Bahamas."