Wigan: James McClean took pay cut to join - Owen Coyle
Last updated on .From the section Football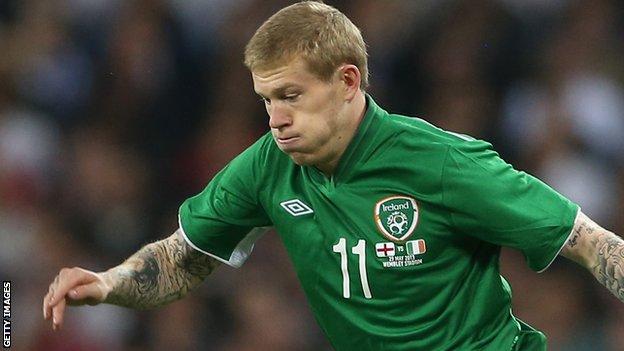 Winger James McClean took a drop in salary to join Championship side Wigan Athletic from Sunderland, says Latics boss Owen Coyle.
Coyle said: "He took a drop in salary to come here, such was his desire to play football.
"That was fantastic. All too often in football, finance is the motivation for some players."
The Republic of Ireland winger, who could make his debut in Sunday's Community Shield against Manchester United, has previously courted controversy.
He had to apologise to his national team boss Giovanni Trapattoni last September following a Twitter outburst, while former Sunderland manager Martin O'Neill had to reprimand him on a couple of occasions for his use of the social media.
A number of his Twitter postings, allied to his decision not to wear a Remembrance Day poppy on his Sunderland shirt, also led to negative headlines.
But Coyle believes his newest recruit now just wants to concentrate on his football - and in doing so can go from strength to strength.
"We have all done silly things as young men," Coyle said. "The bottom line is, having had a chat with him I know he is focused and just wants to concentrate on his football.
"If we get James McClean doing that, there is no doubt he is a huge talent.
"To see a player prepared to come and take a step back because he believes it will eventually lead to two forward - it is great to have at your football club."
Despite recent rumoured speculation, the Wigan boss also confirmed the club have not received any bids for midfielder James McCarthy.
"Good players will always attract so-called interest," he said. "Interest for James and my players, in all due respect, has come from the media.
"As I sit here today I am very comfortable to tell you that I haven't had any enquiries or any offers for those players as yet."