Europa League: Swansea draw Romanian club in play-offs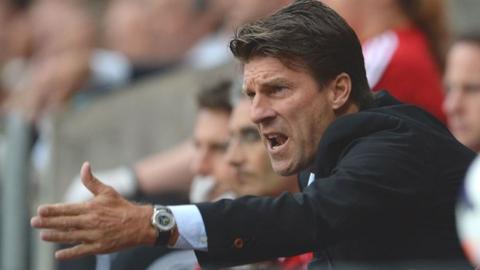 Swansea will face Romanian club Petrolul Ploiesti in the play-off round of the Europa League.
Michael Laudrup's men will have home advantage on 22 August and travel to Romania a week later.
Swansea earned their place in Friday's draw after completing a 4-0 aggregate win over Malmo. Ploesti beat Vitesse Arnhem in the third qualifying round.
"For them to get to this stage they've obviously done reasonably," said Swansea coach Alan Curtis.
"At the moment the information [about Ploesti] is a bit sketchy. But I'm sure that by the time the game comes around we'll have as much information as we possibly can.
"We would love to get into the group stages. We certainly enjoyed the experience of playing against Malmo and it'll be a great experience going out to Romania."
Victory over the Romanians would earn the Swans a place in the group stages of the tournament.
Swansea won't be the first Welsh side to play in Ploesti, which 35 miles away from the Romanian capital Bucharest.
The Romanians beat Wrexham 1-0 on aggregate in the Cup Winners Cup in 1995. Ploiesti won the Romanian Cup last season and finished third in their league. They are managed by Cosmin Contra, who played under Laudrup at Getafe.
If the Swans progress they will enter the Group Stage draw in Monaco on Friday, August 30.
Swansea are playing in European competition for the first time since 1991, after earning their place by beating Bradford 5-0 in the Capital One Cup final.