Crusaders reach agreement with IFA on Windsor Park upgrade
Last updated on .From the section Football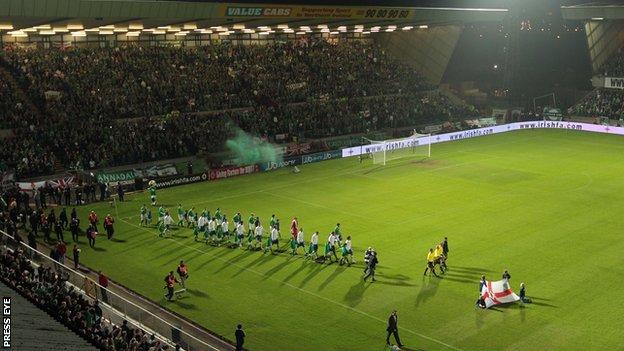 Premiership club Crusaders have revealed that they have ended their legal battle with the Irish FA over the £25m redevelopment of Windsor Park.
Crusaders had won the right for a Judicial Review in relation to the government money earmarked for the ground owned by Linfield.
The Crues argued that the financial assistance could unfairly extend Linfield's dominance in local football.
However, on Friday it was revealed an agreement had been thrashed out.
It is believed Linfield's fellow Premiership clubs will receive additional funding through the recently-formed Northern Ireland Football League.
A joint statement by Crusaders and the IFA read: "Crusaders FC welcome the agreement with the Irish FA for an increase in the funding to be made available to NIFL from 2015.
"NIFL will manage the division and distribution of this finance, in order to support sporting integrity and competitive balance within the Premiership."
The agreement should end fears that the Windsor Park project could be held up by a lengthy and bitter legal dispute.
The decision by Crusaders to challenge the public funding of the Windsor Park scheme had already led to ill feeling between the clubs who finished second and third in last season's Irish Premiership.
For the final league match of the season in April, Crusaders officials sat with the away fans in Windsor's north stand, saying they had been told they were not welcome in the Linfield boardroom.
A group of Linfield supporters have announced they plan to boycott the league meeting between the teams at Seaview on 24 August.
The group, called the Linfield Supporters Advisory Forum, claimed the legal action by Crusaders had been vindictive.