Premier League 'may have to accept winter 2022 World Cup'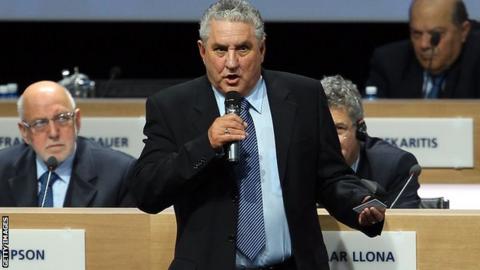 Fifa vice-president Jim Boyce says the Premier League may have to accept the fact the 2022 World Cup in Qatar will be held in the winter.
Sepp Blatter, the world governing body's president, is determined to move the tournament because of extreme heat.
The Premier League has opposed the move but Boyce suggests it may have no option but to co-operate with Fifa.
"I would think so. Fifa are the governing body of the game," Boyce told BBC Radio 5 live's Sportsweek.
"Most of the opposition appears to be coming from the Premier League. If Fifa do decide they are going to move it to the winter calendar I would hope it is done in the right spirit.
"I fully understand the Premier League and what is being said here. But it's in nine years' time, not next year or the following year, and [I] would hope people - for the good of football - can sit down and realise a sensible decision has to be made here.
"I read the Premier League are saying this impacts on three seasons. If people sit down and work out the calendar properly, I don't see why it would affect three seasons."
Boyce confirmed any potential move had not been discussed formally by Fifa's executive committee, which has two remaining meetings this year.
The Northern Irishman also acknowledged that, before it voted in 2010 to award the event to Qatar, Fifa did not fully consider the implications of playing there during the summer, when temperatures can reach 50C.
"I personally believe this should have been considered at the time. I accept that this should have been considered; that's hindsight," said the former Irish Football Association president, who took up his current position in June 2011.
Boyce says his personal preference would be for the tournament to be held from 6 January to 8 or 9 February.
And he agrees with Football Association chairman Greg Dyke's assertion that it would be "impossible" to hold a summer World Cup in Qatar.
"The situation in Qatar, and everyone knows this as Greg Dyke rightly says, is that the temperature exceeds 50 degrees at times," Boyce said.
"How can you take thousands of people to the greatest sporting event in the world and ask them to enjoy themselves in conditions I think are impossible?
"I honestly believe, medically, you would be asking for massive problems not just for the players but for the spectators."
Dyke, who took up his position at the FA last month, believes the tournament is most likely to be moved to autumn in 2022.
"There are two choices. You either move it to a different country or you move the time. You can't hold it in Qatar in the summer," he said.
"If you are going to move it there is going to be a long discussion in terms of the time. I suspect it is more likely to go ahead late autumn."