Malawi want qualifier against Nigeria switched
By Frank Kandu
BBC Sport, Blantyre
Last updated on .From the section Football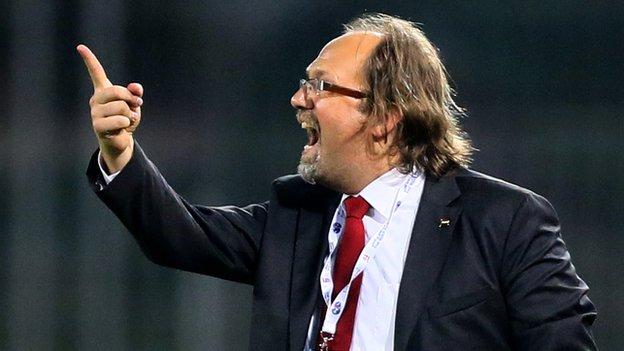 The Football Association of Malawi (FAM) has written to Fifa to ask for their decisive Group F World Cup qualifier against Nigeria to be moved from Calabar.
The FAM is also unhappy with the appointment of Hamada el Moussa Nampiandraza as referee for the match.
Malawi trail Nigeria by two points and must win to progress to the play-offs.
Belgian coach Tom Saintifiet (pictured), who volunteered to lead the Flames against the Super Eagles, told local media this week that he is not comfortable with the match being played in Calabar.
"Nigeria would like to play in Calabar because it is close to Cameroon in the south-east of Nigeria - not so easy to reach with the only connection via Lagos and Abuja but with no international flights," he said.
"There are not so many hotels available so it will be very difficult to get there. I have one question also about security because the UK's Foreign & Commonwealth Office says it is a no-travel area.
"Fifa they may have to think of shifting the match either to Abuja or to another place outside Nigeria because Calabar is obviously not the capital and it is not a big city. The accommodation is not good for such a big game.
"But I think it is also a plan by Nigeria. They try to disturb their opponents on and off the pitch. So in all the ways we must be prepared as top professionals to try to find solutions and make good plans."
FAM's letter to Fifa states: "There is security risk in Calabar where the match will be played, as reported by the Commonwealth Commission. The venue of the match is risky to our delegation and we would like Fifa to shift the match to Abuja or to a neutral country where our delegation will be safe.
"Calabar has been flagged as a high-risk security area and this alert cannot be taken lightly. Our Minister of Sports will be part of the travelling delegation and we do not want to take security risks by travelling to Calabar."
FAM has also protested over the appointment of referee Nampiandraza, who it believes gave a "below par" performance at the 2013 Africa Cup of Nations.