Liverpool's Ryan McLaughlin puts club before Northern Ireland
Last updated on .From the section Football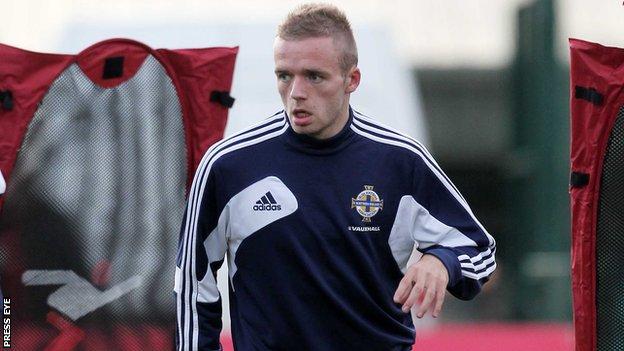 Northern Ireland have suffered a blow after Liverpool youngster Ryan McLaughlin told Michael O'Neill that he does not want to be considered for international duty at the moment.
O'Neill told the Sunday Life newspaper that McLaughlin had informed him that he wanted to concentrate on his club.
McLaughlin, 18, insisted to O'Neill that he is not considering switching allegiance to the Republic of Ireland.
The Belfast man has played for Northern Ireland at youths and Under-21 level.
McLaughlin had been named in the Northern Ireland Under-21 squad for Wednesday's friendly against Denmark and was also on standby for the World Cup qualifier against Russia.
"Ryan has decided that he just doesn't want to make himself available to play for Northern Ireland," O'Neill added in his interview with the Sunday Life.
"We had notification from Liverpool that he wanted to stay and concentrate on his club career at this minute in time and he wouldn't be available for the Under-21 team or the senior squad."
O'Neill attempted to change McLaughlin's mind on the issue by holding face-to-face discussions with the defender but these proved to no avail.
"I met him face-to-face and also with Brendan (Rodgers) there. Stephen Robinson (Northern Ireland Under-21 coach) met him in the summer while he was at home in Belfast.
"(But) Ryan feels at this moment in time that coming away on international duty will be detrimental to his progress at Liverpool.
"I don't really understand that and I told Ryan that when I met him.
"Liverpool have encouraged him to come away with us. I've had conversations with Brendan (Rodgers) and Barry Hunter (coach) about it. They both want him to play for us and have told him that."
Darron Gibson and James McClean are among a number of Northern Ireland-born players who have switched allegiance to the Republic of Ireland in recent years but McLaughlin has told O'Neill that he will not be following that path.
"The player has assured me that is not in his thinking or an issue," added the Northern Ireland manager.
"I would not be surprised if he has been targeted in some way by the Republic of Ireland but when a player sits down and tells me face-to-face that it isn't an eligibility issue, I have to believe him."
O'Neill added that McLaughlin, who recently signed a new three-year contract at Liverpool, had been "very, very close" to making his full Northern Ireland debut.
"If you look at our squad, we have Aaron Hughes, a centre-back, playing at right-back. Our only natural right-backs are Lee Hodson and Ryan McLaughlin."