Wayne Rooney frustration overshadows David Moyes's day
By Tom Rostance
BBC Sport at Wembley
Last updated on .From the section Football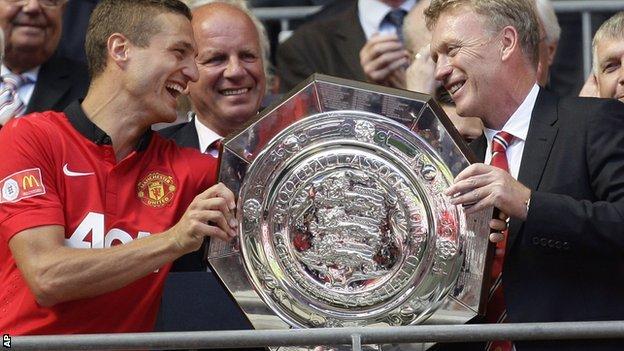 Sir Alex Ferguson will have been proud of his chosen successor David Moyes as he made his Manchester United debut at Wembley on Sunday.
And off the pitch, Moyes delivered a news conference which left the assembled media in no doubt where the balance of power still lies. It was as if Ferguson himself was still at the helm.
During his 26-year tenure at Old Trafford, Ferguson banned countless reporters, shot down dozens more and boycotted the BBC for seven years.
Sunday saw the first glimpse of frustration from Moyes at continual questioning about the future of striker Wayne Rooney - mere minutes after he had won his first trophy since Preston took the Division Two title in 2000.
Moyes was irritated rather than out of control, and he was canny enough to expect, anticipate and snuff out the questions while batting away any praise for beating a Championship side to the pre-season prize by instead claiming that it was another trophy for Ferguson.
Time and again a reporter attempted to start a question about Rooney with the gambit: "David, I know you don't want to talk about Wayne but…"
Time and again they were drowned out before they could finish the sentence. "Don't ask me then. I've told you, Wayne is not for sale and that is that."
Moyes appeared genuinely baffled by the constant questioning over the availability of Rooney - who was left out of the squad to face Wigan but deemed fit enough to play some part for England against Scotland on Wednesday.
"I'm quite enjoying talking about Wayne because so many of you are getting it wrong," he said, before stating that he knew most of the media present and thought they "were cleverer than that."
The manager was not angry or rattled though, but in control and able to defuse the tension by joking that as a Scotsman he was happy to send an unfit Rooney on international duty to face Gordon Strachan's men.
The future of Rooney - one of United's star players and an asset that would be difficult to replace if he were to join Chelsea - will continue to dominate the news agenda for the next few weeks, with England manager Roy Hodgson likely to be next in the firing line in the build up to Wednesday's match.

Moyes knows that the issue will not go away until it is resolved - but Kevin Kilbane, who played under Moyes at Everton, believes he will continue to stay in control.
"Moyes knows he is going to be targeted by the press in these first few months," Kilbane told BBC Sport.
"They have been used to dealing with Sir Alex who would ban people and just refuse to talk to them. So the media know they can have a lot of influence in these first months which is why Moyes has to be strong. He will be targeted by some who may see a chink in his armour. But he is better than that.
"He's done enough news conferences in his time to know how to take control. Everton are a big club and he has learned his trade well there. He knows what he's doing."
Failures to sign Cesc Fabregas and Thiago Alcantara in the transfer market, combined with Chelsea's pursuit of Rooney, meant the Moyes era got off to a somewhat tricky start.
But Mike Phelan, assistant to Ferguson until the summer, saw enough in the new manager's start to declare United as favourites to retain their title come May.
"David will be really pleased," Phelan told BBC Sport.
"He certainly knows now what it's like to win something and the expectation that he has got to put up with every day of the week. They can settle down now and get on with the season ahead because it will be challenging.
"But they have to start as favourites. They were the best team last year and nobody can retain a title like Manchester United."
And what of the question that Moyes has grown tired of already? Will Rooney remain a United player?
"I can't see him leaving," Kilbane says. "He is too good a player to replace so late in the window. Unless he does something drastic like downing tools I can't see how he can go."
And Phelan, who worked with Rooney until the summer?
"What it boils down to is that there seems to be an issue between Manchester United and Wayne Rooney. At some point that will be dealt with and put to bed," he said.
"Whether that is the club or Wayne Rooney who bring that to a head remains to be seen. But hopefully the correct decisions are made along the way."
The transfer window closes on Monday, 2 September. Reporters - and supporters - will continue to ask about Wayne Rooney. David Moyes is ready for them.