Christian Benitez: How will Ecuador cope without the striker?
Last updated on .From the section Football83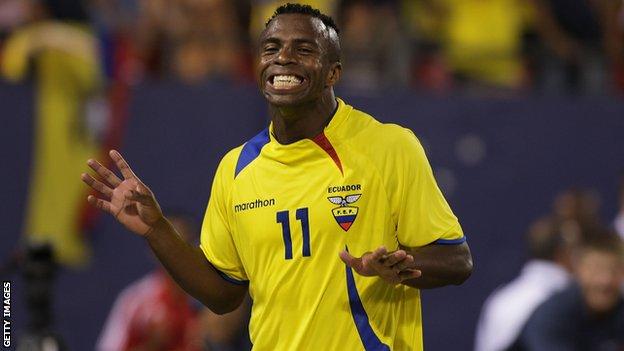 The question might seem cruel and heartless to some, but time marches on and it needs to be asked - how will Ecuador fare in the absence of the late Christian Benitez?
First, a quick tribute to a man whose sudden death last month was desperately sad. Benitez was a class act, a striker with enough pace and versatility to be an asset to any squad.
It always surprised and disappointed me that, following his season with Birmingham City, there was no move from another Premier League club. It was English football's loss.
When I first saw him for El Nacional back home in Ecuador I thought he was left footed. He was playing as a winger on that flank, and supplying good service to the centre-forward. In fact, I believe that he was naturally stronger on his right, but he was two footed and good enough to play anywhere across the forward line.
With the national team he was happiest in the role of support striker. He had the speed to be played beyond the defensive line, he could drift out to either flank and had considerable penalty area presence. His four goals in the 2014 qualification campaign have helped Ecuador close in on a place in Brazil next year. Three of them came from headers - a testament to the all round talent of the little man in Ecuador's now-retired number eleven shirt.
So complete was he that there is no direct replacement ready to step in and duplicate his function. In terms of a like-for-like substitute, perhaps the closest is Narciso Mina, who is likely to get the nod on Wednesday when Ecuador play host to world champions Spain in Guayaquil.
Indeed, he stepped in last September when Benitez was suspended for the World Cup qualifier at home to Bolivia.
Mina plays for Mexican giants America, where he was a team-mate of Benitez for a few months earlier this year. Something of a late developer, he has the same stocky build, and like Benitez is bullet fast. But he is not as skilful, and nowhere near as versatile.
There is another option, though it cannot be tried out this Wednesday - because Ecuador decided not to antagonise Manchester United, and therefore have spared their star player a trip across the Atlantic.
Antonio Valencia has been turned into a winger in English football, but this was not his original position. He came through as more of a central midfielder. If he used to operate on the right for the national team, it was with full-back Ulises De La Cruz overlapping on the outside, allowing Valencia to cut in towards goal and unleash his booming shots.
Benitez was suspended again for Ecuador's last World Cup qualifier, two months ago at home to Argentina - and for this game Valencia was moved infield. He played behind rejuvenated centre-forward Felipe Caicedo in a 4-2-3-1 formation, and Ecuador had the best of a 1-1 draw.
Using the United man in this way has two advantages. Firstly, it opens up a place in the starting line-up for another flyer down the flanks. This is an area where Ecuador are very strong at the moment. Their football is producing plenty of quick wide players. Down the left, Jefferson Montero has established himself as a key man - on his day he can be unplayable.
Against Argentina, with Valencia in a central role, the role down the right went to Joao Rojas of Cruz Azul in Mexico, though it could have easily gone to Renato Ibarra of Vitesse Arnhem in Holland, who ended up coming on as a substitute. These are all very interesting young players.
But there could be an even more compelling argument for shifting Valencia into the middle. It could help shore up a suspect defence.
With a centre-forward, a support striker and two attacking wide men, Ecuador can run the risk of leaving themselves dangerously open. Throw in the fact that they currently lack a single top-class defender, and it is clear that they could have real problems next year.
This was made painfully obvious in a friendly against Germany held in the United States at the end of May. Warming up for the World Cup qualifiers, Ecuador were at full strength. Germany, emphatically, were not. This was just a few days after the all-German final of the Champions League between Bayern Munich and Borussia Dortmund.
None of those players was present. It was a very experimental squad that coach Joachim Loew took to Florida.
And yet Germany were four goals up after 23 minutes. Ecuador could simply not cope with the dynamism of their play. The formation, virtually an old style 4-2-4, looked wide open and the defenders lacked the quality to deal with the passing and movement at pace of their opponents.
After half an hour, centre-forward Caicedo limped off. Valencia moved in to play behind Benitez, and Ibarra came on to take care of the right flank. It was a different game.
The final score was 4-2, though Ecuador had enough chances to have won, and Loew confessed he had been frightened by the individual ability of the South Americans.
Valencia scored one, had plenty of shots saved, orchestrated the play from the centre of the field and also helped tighten up the team with his physical presence and defensive awareness.
It was no surprise when coach Reinaldo Rueda did something similar in the game against Argentina, and it could well be the template for the World Cup - when Ecuador will seek to record their best-ever performance and honour the memory of Christian Benitez.
Comments on the piece in the space provided. Questions on South American football to vickerycolumn@hotmail.com, and I'll pick out a couple for next week.
From last week's postbag;
I watched the pre-season game between Porto and Napoli and Juan Quintero really stood out. I looked into him a bit more and he impressed for Pescara last season so how come there wasn't more competition for his signature? And also how good a player do you think he can become?
Jack Williams
He's a favourite of mine, so I hope he goes all the way - a wonderfully old fashioned left-footed playmaker. Porto have been beaten at their own game on this one. He was a class act over a year ago for Atletico Nacional in the Libertadores, coming on as a substitute and immediately getting a grip on the game. Pescara got in there and have sold him on at a tidy profit.
I'll be interested to see if he gets a game for Colombia on Wednesday in their friendly against Serbia. He could have a role to play in the World Cup, especially now that the previous playmaker Macnelly Torres has opted to move to Al Shabab FC in Saudi Arabia.
What has happened to Brazilian giants Sao Paulo this season? They are now in the relegation zone after losing most of the last 10 games. Is there any particular reason why there has been such a massive slump in form?
Daniel Stirrat
I think we can put this one down to internal problems. They are a huge club with a squad which, on paper, looks strong enough to compete - certainly for a Libertadores place if not for the title.
Once their organisation was held up as an example, now they seem to have been overtaken by the progress made by other Brazilian clubs. The authoritarian style of the club president is coming in for criticism, and some insiders are saying that the team's veteran captain and goalkeeper Rogerio Ceni has too much of a say. In the last few years no coach has stuck around long enough to impose his identity on the club.