Farnborough's Conference South future remains in doubt
By Rob Stevens
BBC London & South East Sport
Last updated on .From the section National League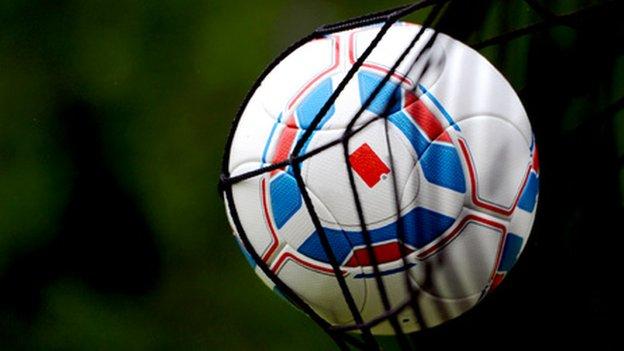 Farnborough's place in Conference South remains in doubt, despite the club exiting administration.
A consortium headed by manager Spencer Day completed their buy-out of the Hampshire club on Tuesday.
However, the Football Conference say the club must pay a £100,000 bond and comply with league rules before taking their place in the competition.
Boro, who entered administration in April with debts of £2m, are due to play Chelmsford at home on Saturday.
The Football Conference told BBC Sport that Farnborough's new owners must satisfy a number of criteria, including evidence of funding and demonstrating they can fund the club for a year, before the club's membership of Conference South can be confirmed.
Fulfilling these conditions is "in the interest of the competition and in order to protect other clubs", a spokesman said.
Farnborough described the demand of the £100,000 bond as "staggering" but issued a statement saying betting company Paddy Power, with whom the side have agreed a sponsorship deal this week, had paid the sum on their behalf.
The Football Conference said that there had been precedent for the payment of a bond before a club was accepted into the competition, citing the examples of Wrexham and Crawley Town.
After exiting administration on Tuesday Farnborough announced details of a new one-year, six-figure sponsorship deal which the club claim will see their first-team players change their names via deed poll to those of footballing legends.
"It's a bit of fun and everyone is smiling about it. It has brought great attention to the club, football at this level and the community," Day said.
"It is a tough world out there and we are grateful for it. There is jealousy out there but we have not sold out the club.
"The economic times we are in are very difficult.
"Our job is to win football matches and entertain the crowd. This is an amazing opportunity for the club having come out of administration and the pros outweigh the cons a thousand to one.
"We are going to use everything we can to get this club sustainable."
A spokesman for the Football Conference told BBC Surrey on Tuesday that it would "be inappropriate to comment at the moment" on the club's sponsorship deal.
The BBC understands another non-league team turned down the deal on grounds of "undermining their credibility".