Financial Fair Play: 'A third of owners considering selling club'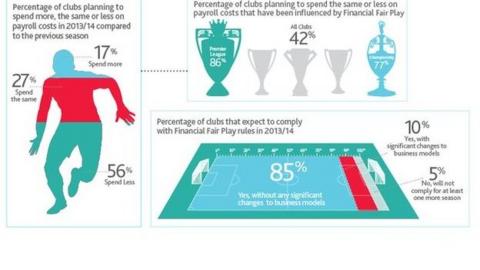 A third of owners surveyed at Championship and League One clubs are considering selling in the next 12 to 18 months despite new Financial Fair Play (FFP) regulations, according to new research.
FFP rules are designed to ensure clubs break even over a three-year period and come into full effect this season.
"Intense competition for promotion places has pushed the majority of Championship and League One clubs into the red," said Trevor Birch of BDO LLP, who commissioned the survey.
"[This has] created a dependency on principal shareholders bankrolling trading shortfalls."
BDO LLP, which recently oversaw the administration and subsequent sale of League Two club Portsmouth, spoke to finance directors at 66 clubs from across the English Premier League, Football League Championship, Leagues One and Two and the Scottish Premiership, with most saying they are on track to meet the new regulations for the 2013-14 campaign.
The report's authors argue that the need for FFP is stronger than ever because balancing the books remains challenging, particularly outside the Premier League. The survey reveals that only 30% of finance directors describe their club finances as 'very healthy'.
"The initial signs suggest that clubs are taking the new requirements seriously and beginning to adapt their behaviour in the way the football authorities intended, which is encouraging," said Birch.
Clubs which fail to comply with Uefa's new FFP rules could face player bans and points deductions.
The regulations take effect this season and permit losses in the Premier League of up to 45m euros (£37.5m) over a three-year period, with the aim of eventually breaking even.
Regulations vary from league to league and can also involve salary caps.
The report reveals that 85% of clubs expect to comply with the FFP rules in the 2013-14 season without any significant changes to their business models.
A further 10% plan to meet the regulations following major revisions of their financial plans, and the remaining 5% will not comply for at least one further season.
The survey also found strong evidence that FFP is beginning to change club behaviour, with compliance of the regulations cited as the third most pressing concern for Premier League and Championship clubs, after inflexibility of player salaries and loss of income due to relegation.
The report also hints at the end of the benefactor model, with supporter trusts becoming increasingly prevalent.
"Though many would prefer the sport to find its own sustainable financial equilibrium, the pressure on clubs and their owners for success has not allowed this to happen," added Birch. "This is why it is important for the FFP regulations to be embraced, not just in letter, but in spirit."
In May, Portsmouth became the largest supporter-owned club in Britain. In recent years Dundee, Exeter, AFC Wimbledon, Wycombe, Wrexham, AFC Telford, Chester FC and Motherwell have also become trust-controlled clubs.
The report reveals a growing reliance on benefactors to plug funding gaps at their clubs. In total, 65% of clubs acknowledged a dependence on principal shareholders to finance operating losses compared with 58% last year; for the Championship the figure is 94% and for League One it is 64%.
Faced with the challenge of plugging a funding gap while also keeping the club competitive on the pitch, it is perhaps not surprising that 28% of Championship club owners and 36% of League One club owners are considering a full or partial exit in the next 12 to 18 months.
At the same time, a similar proportion of clubs, 33% and 21% respectively, have been approached by potential new external investors in the past year.
But, as Birch explains, the appetite of rich individual investors is now diminishing with local communities playing an increasingly important role in the running of their club.
"While a similar proportion of clubs are being approached by new external investors, in reality there is a dwindling number of genuine potential owners outside the Premier League," said Birch.
"Our recent experiences at Portsmouth, Dunfermline and Hearts demonstrate that football clubs continue to attract huge interest and publicity but, when it comes to the crunch, only a limited number of potential investors have the resources and the appetite to bankroll the cost of their club's ambitions.
"Buyers are increasingly likely to be supporters, who recognise the important role that clubs play in their local communities and seem to be willing to go back to basics, with overly ambitious promises of silverware traded for closer ties and greater financial stability - a backlash, perhaps, against the profligacy of previous regimes."
Birch's sentiments are echoed by Supporters Direct chief executive David Lampitt, who wants the government to do more to help supporters take over clubs.
"Football and the government should be doing all they can to make it easier for supporters to take ownership of football clubs," said Lampitt. "It is not an alternative model of ownership; it is the best model of ownership, full stop.
"The authorities need to have the courage and foresight to help make this happen so that collectively we can deliver a game that is more sustainable, closer to communities and that prioritises the interests of fans."