Truro City may need to strengthen squad, says captain Jake Ash
Last updated on .From the section Football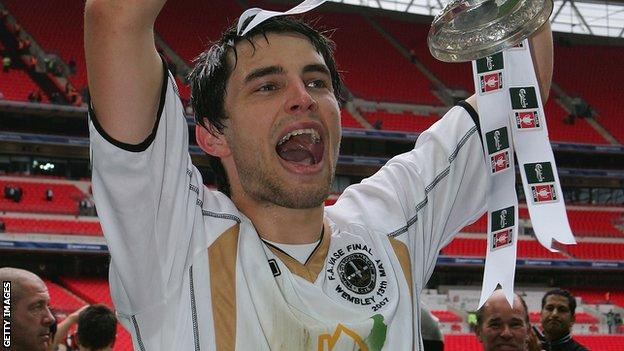 Truro City captain Jake Ash says the club may have to invest in new players if their squad struggles this season.
"It's a real learning curve for the guys stepping up three or four levels," he told The Non-League Football Show.
"If we have to bring players in then it's something we have to do because the chairman's invested money and he won't want to see another relegation."
Ash, who has been at the club during their ascent through the leagues and FA Vase success in 2007, added: "I've spoken to the manager [Steve Massey] as captain and we're all aware that we need more players that can operate at this level."
The White Tigers will line up in the Southern Football League Premier Division after their relegation from the Conference South last season.
A year of financial turmoil resulted in the club going into administration, as former owner Kevin Heaney went bankrupt.
Massey has been brought back as manager and Ash said the club were turning to local players as they adopted a more realistic recruitment policy in the wake of their financial difficulties.
"The budget which was at the club was unsustainable on the crowds we were on, which lots of football clubs have faced," Ash continued.
"Steve's remit is to rely on local talent a bit more. Unfortunately, being the geographical outpost that we are, there isn't huge strength in depth. Plymouth Argyle are our nearest local club. We don't have three or four on the doorstep.
"We've got a young set of players. It will be a difficult challenge for them. But it's not a team of kids. I think a lot of the guys that have come in have been released by Plymouth, Exeter and Torquay, so they come from good stock.
"I've been lucky to be part of the success here over the last eight years and I know what quality we need to survive at this level and so does Steve."
Ash paid tribute to the impact that Massey and chairman Peter Masters had made since his appointment as manager.
"Steve's come in and been at the forefront of the positivity at the club - that's how he manages, he's a real infectious Ian Holloway-style character," he said.
"The place has a completely different feel about it, on and off the field. It's nice to be part of something positive and not to be worried about the negatives hanging over our heads that we have for the last few years."