Gordon Strachan's Scotland given chance to shine on Wembley stage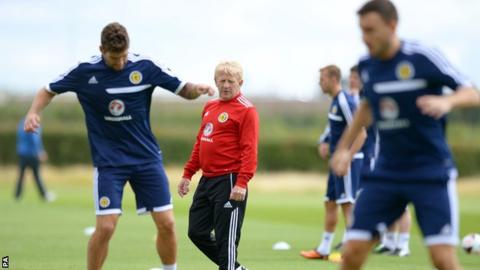 England v Scotland
Venue:

Wembley Stadium

Date:

Wednesday, 14 August

Kick-off:

20:00

Coverage:

Live text commentary online, BBC Radio 5 live, BBC Radio Scotland
On Wednesday evening, a dozen or so Scots will get the opportunity to live out a schoolboy fantasy: playing against England at Wembley.
With that comes the opportunity to etch their names alongside a select band who have emerged victorious from the fixture on the Auld Enemy's own manor.
That in itself might be sufficient incentive for the squad picked by Gordon Strachan to dampen the English Football Association's 150th anniversary celebrations.
But in the grander scheme of things, a positive result at Wembley - including a draw - will be another step in the rebuilding process we saw begin to take shape in Zagreb in June.
Few, if any, gave Scotland a hope of emerging from that encounter with a win against the world's fourth-ranked side.
Indeed, a glance at the national team's forthcoming fixtures had many questioning where the next victory might come from, such was the sense of gloom surrounding Scotland.
So, it's in precisely this context we should examine Strachan's side's hopes of continuing the progress hinted at by that 1-0 surprise win, so as to avoid the pitfalls and inevitable disappointment of a euphoria-laden analysis that everything's dandy after one tremendous result.
That said, this trip to Wembley and the subsequent World Cup qualifiers against Belgium - at home - and Macedonia - away - do take on a different hue viewed in the afterglow of the Zagreb success.
It certainly means the Scots go into Wednesday's match with additional confidence and without the media reminding them how long it's been since they actually won a game.
Under Craig Levein, the players always talked a good game but then looked absolutely bereft of confidence once they stepped onto the pitch.
The same was true - under Strachan - against Wales and to an extent in Serbia, but Croatia was a different story. Scotland dared to be brave on the ball and reaped the rewards.
Now the onus is on Strachan and the players to prove this was not merely a positive blip, but a sign that they're learning and improving and that Scotland can once again be a force to be reckoned with on the international stage.
So, while this match may be just a 'friendly', the importance of the performance and the result are immeasurably greater, not only because of the opposition.
It may not be the ideal game for such a scenario, but it calls for cool heads and a level-headed approach akin to the one in Zagreb, because that will also be key to success against Belgium and Macedonia.
Changing the game-plan drastically for one match might make for a more enthralling tussle, but won't help Scotland's longer-term prospects.
As difficult as it might be to curb the natural instinct to try to go toe-to-toe with England, a patient, measured possession game will surely serve greater purpose in terms of the overall development of the team.
But it would be naive to imagine that - for 90 minutes at least - all thoughts of World Cup qualifiers and long-term strategies will not be set aside as these Scots, some of whom have pretty broad English accents, give it their all to give the hosts a bloody nose.
And perhaps, by full-time on Wednesday, there will be another name to add to those like Don Hutchison, Kenny Dalglish and Jim McCalliog - Scots who've scored winning goals at Wembley.