Tony Pulis: Ex-Stoke boss wants limit on international friendlies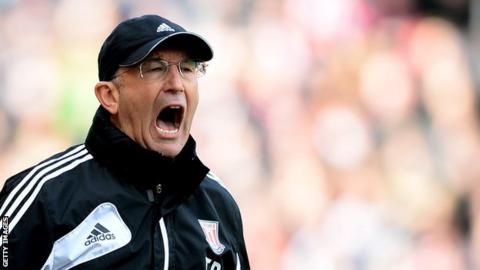 Tony Pulis says there should be no more than two international friendlies a year but national sides should have more get-togethers.
Wales host the Republic of Ireland and England face Scotland three days before the Premier League starts.
But Pulis says it is time to scrap friendlies.
"I do think that having an international game a week before the season starts is ridiculous," the ex-Stoke boss said.
"Irrespective of what anybody thinks, that first game of the season in the Premiership is much more on their [the players'] minds than a meaningless friendly game."
Gareth Bale, along with Aaron Ramsey and James Collins, will miss Wales' home friendly against the Republic of Ireland on Wednesday.
The match at the Cardiff City Stadium will be a warm-up for Chris Coleman's side for the World Cup qualifiers against Macedonia and Serbia in September.
Welshman Pulis believes changes are needed to the international calendar, and a scheme devised that would allow players to link up with their national sides once a month.
"The international set-up is still revered but do it in a different way. It has to be looked at and it has to be looked at in a way both sides are gaining out of it," Pulis told Radio Wales Sport.
"There are games that I think have to be played for financial reasons to give the Welsh FA money to continue the progress they hope to make.
"I'd say two friendly internationals a year against big opposition that fills the stadium and gives everybody a chance to see the players play.
"[That's] fine, not a problem but not the nonsense that goes on now.
"But if you're asking me as a manager, and a manager who wants to put a team together, I'd much prefer to have the lads once a month [with their national side].
"They'd play in a Premier League game and once a month you'd have them on a Sunday and a Monday to work on your system, your shape, your pattern.
"[You would] make every club in the country aware that you were going to have them once a month instead of taking them away for three days and playing in a meaningless game at a friendly pace when nobody's getting anything out of it."
Uefa, European football's governing body, has previously backed a move to scrap international games taking place in August.
Wales assistant manager Osian Roberts acknowledges the frustrations of clubs at the timing of the August matches.
"The friendly matches in August are not ideal and if I'm correct these will be the last ones to be played at this time of the season," Roberts said.
"It's not ideal because of the movements players and clubs make.
"And for the majority of the lads the game comes before their first competitive match in the English Premier League."