Ipswich: Mick McCarthy says Marcus Evans 'realistic' on aims
Last updated on .From the section Ipswich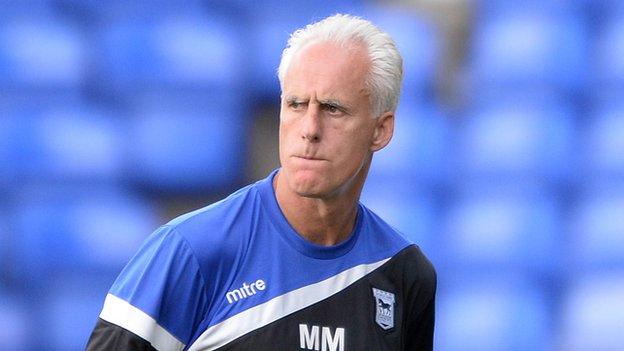 Ipswich Town boss Mick McCarthy has said club owner Marcus Evans remains "realistic" in his pursuit of Premier League football.
Town have failed to finish above eighth place in the Championship since Evans bought the club in 2007.
"Marcus is the same as me. He wants to aim as high as we can," McCarthy, in charge of his first full season at Ipswich, told BBC Radio Suffolk.
"But, like me, he is realistic about it as well."
Evans, who owns 87.5% of Ipswich's shares, has pumped considerable sums into the Championship side, with the most recent accounts showing
That financial commitment has been with the aim of taking Town to the Premier League, but it is a feat that, so far, four different managers have yet to achieve.
McCarthy, who steered Ipswich away from relegation following his appointment last November, has said he believes his side are
But he must do it against the back drop of new which aim to see clubs break even over a three-year period.
"It's easy me saying 'we'll aim for the top six'," he said. "Of course we're aiming for the top six, but there's a bit of graft to do that.
"We played at our absolute maximum from November last season and we know those points would have got us in the top six. Well, we've got to do it again."