Guernsey FC groundsman confident over repaired pitch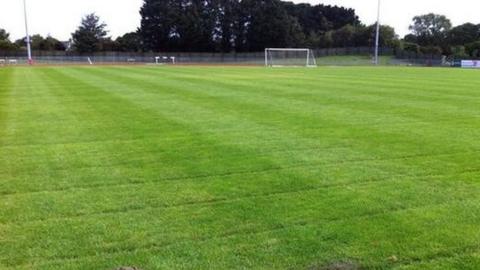 Guernsey FC groundsman Shane Moon says he is confident there will be no repeat of the problems which beset the club's ground last season.
Footes Lane - home to Guernsey FC and Guernsey Rugby Club - suffered badly from standing water, leading to numerous postponements.
"We've done a lot of major work to it," he told BBC Guernsey.
"I'm quite pleased with it - it's improving every week and hopefully it should be fine."
Guernsey FC - who have their first home game of the new season against Horsham on Wednesday - were forced to play 20 matches in the final 36 days of the 2012-13 season because of a combination of postponements and their run to the semi-finals of the FA Vase.
They had to play four games in as many days at the end of the season, but still managed to seal second place to book their promotion to Ryman League South.
Moon said the club has worked hard to improve the drainage with the introduction of a gravel band system. The work involved cutting around 100 trenches in the pitch and filling them with gravel and sand to aid drainage.
"We've dug down to 400mm, gravel banded it to 300mm and then top dressed with sand on top of that and seeded the whole pitch," he explained.
"I've put my head on the block and said we shouldn't have a problem with standing water.
"We've done a lot of work to get it right and hopefully we'll see the benefits."
Moon is now combating another problem - rabbits.
"This is what amazes me," he said. "They've dug through the gravel and then a metre along under the pitch. I'll fill it back in and a bit of paint seems to ward them off - perhaps we should paint the whole pitch."
The stadium is owned and run by Guernsey's Culture and Leisure department.
Moon added: "It's basically non-stop - every weekend it's football or rugby.
"I've had a few sleepless night but luckily I love what I do."