Yaser Kasim: Swindon players good enough to control matches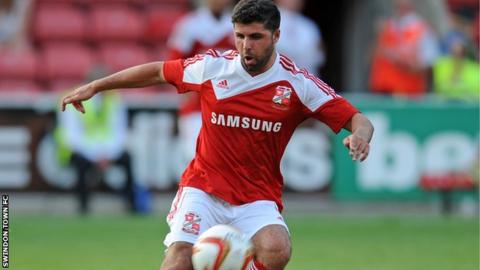 Swindon midfielder Yaser Kasim has been impressed by the Robins since signing from Brighton this summer.
Kasim, 22, made only two appearances in three years with the Seagulls but played 16 Conference Premier games last term on loan at Luton and Macclesfield.
"On loan last year, training was: 'work very hard.' Get to the game: 'work very hard again','" he told BBC Wiltshire.
"The team would try and set the tempo but couldn't. At Swindon, the players are good enough to control matches."
Kasim began his career at Tottenham Hotspur before moving to Brighton.
The Iraq-born player is one of seven Spurs academy graduates now at the County Ground.
Defenders Jack Barthram and Nathan Byrne were both released by the north London club, while Grant Hall, Massimo Luongo, Ryan Mason and Alex Pritchard are all on loan.
"It's been easy to settle in because I know so many guys from the Tottenham days and then some, like Ryan Harley, from Brighton too," Kasim added.
"There is real quality here - we can slow things down and control the tempo.
"I think what I've noticed is that there is a lot more thinking [in the game] than when I was playing at Luton or Macclesfield."