Wales must learn to win without Gareth Bale, says Chris Coleman
Last updated on .From the section Welsh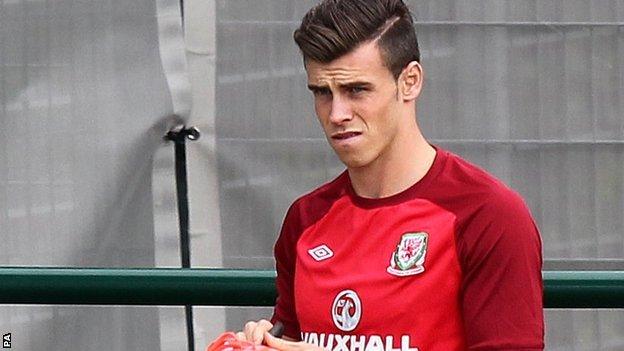 Manager Chris Coleman says Wales must use Wednesday's friendly against the Republic of Ireland to prove they can win without Gareth Bale in the side.
That is despite intense speculation over a possible world record transfer from Tottenham to Real Madrid.
"We're not always going to have him, so we can't say when we haven't got Gareth that there's an excuse," Coleman said.
Coleman is under no illusions that Wales are better with the huge talent of Bale on the field for them.
But the manager points to their 2-1 World Cup qualifier victory over Scotland in Glasgow last March, where Bale limped off at half-time before Wales staged a second-half comeback to win.
"If he's on the pitch, even if he's not playing his best the opposition will know he's there and what he's capable of," Coleman said.
"That makes them a little bit nervous and maybe gives one or two other players on our team a little bit of time because they're concentrating on him.
"So it's disappointing not to have him but you have to think back to the second-half against Scotland where we lost him at half-time to injury.
"We were 1-0 down and we went on to win the game and played some incredible football, so that's the benchmark for us."
Bale has not played for his club Tottenham since Real Madrid manager Carlo Ancelotti revealed his club wanted to sign the Cardiff-born winger.
It has also been reported that Bale has asked permission to speak to the Spanish side about a possible world-record transfer.
But Coleman says that whatever the future unfolds for Bale, he will take it in his stride.
"Knowing Gareth, he's a very calm character and I don't think he's the type of player that everything will fall down around his ears. It won't if he stays or whether he goes," Coleman said.
"I believe he's going to achieve great things, whether that's with Tottenham or whoever.
"He's alright Baley, he's obviously not going to make it [against the Republic] sadly but he's in good spirits. He did a bit of work alone with the physio.
"We knew before he arrived he wasn't going to be ready for the game but he wanted to come along, which was really positive.
"It's a huge positive for all of us that a player of his calibre - especially with what's going on personally at the moment for Gareth - still wanted to come down and be part of the squad.
"He loves Wales, he's a Cardiff boy, he's very passionate about his country. It's all very positive from our perspective."
Midfielder Aaron Ramsey (ankle) and defender James Collins (knee) have also been ruled out of the match against the Republic.
But despite his weakened side Coleman is looking forward to a proper workout ahead of the World Cup qualifiers away to Macedonia on 6 September and then against Serbia in Cardiff four days later.
The group fixtures conclude with the return against Macedonia on 11 October, then a trip to face Belgium on 15 October.
Wales are realistically out of contention for qualification but will help their seeding for future campaigns by finishing as high up the Group A table as possible.
"It will be a typical 'British' derby and they're always a bit feisty, it will be no friendly - we don't expect that and I'm sure that Ireland won't expect that," Coleman added.
"It will be a good crowd hopefully, it will be boisterous, a few Irishmen there enjoying the game and we're looking forward to it.
"It's a game we want to win, it's important for us because we've got four qualifiers left. We must do well in these four remaining qualifiers, finish as high as we can.
"Belgium won't be looking at us and thinking that's an easy three points because we're a different team now than we were a year ago going into these championships because we've improved.
"We must continue to do that."