Dundee approve Texan investment

Last updated on .From the section Dundee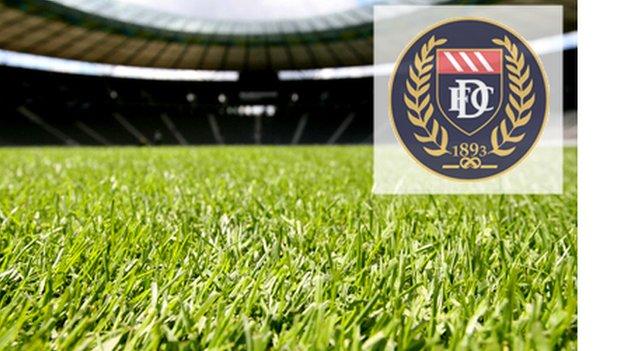 Dundee shareholders have approved a £650,000 investment in the club from Texan group Keyes Capital.
The shareholders meeting followed approval 24 hours earlier by Dundee Football Club Supporters Society, the major shareholder at Dens Park.
Its had instructed its board to issue more shares to allow Keyes to invest in the Scottish Championship outfit.
Former Dundee directors Steve Martin and Bill Colvin will also be part of the fresh investment in the club.
The pair resigned from the Dens Park board over the .
Dundee said in a statement: "In our 120th anniversary year, we now enter into a new era with hope and pragmatism in equal measure.
"The fans of Dundee FC have saved the club twice and the new investment is intended to secure our club financially and act as a platform for our future success.
"We hope that our fans will back the club in the numbers they have done in the past as together we can take this great institution into a future which matches our proud past."
Dundee are back in Scotland's second tier after being relegated after one season in the Scottish Premier League.
The club website explained that, following from special meeting of the supporters' society, which voted overwhelmingly to approve the issuance of 100 million new shares, a general meeting of shareholders "overwhelmingly" approved four resolutions.
Fraser McDonald resigned from the club's board, with Colin Reid of the DFCSS taking his place.
At a meeting of the club board immediately after, it was agreed that Colvin, Martin and John Nelms would become club directors.