Scotland Under-21s: Billy Stark takes blame for England defeat
Last updated on .From the section Football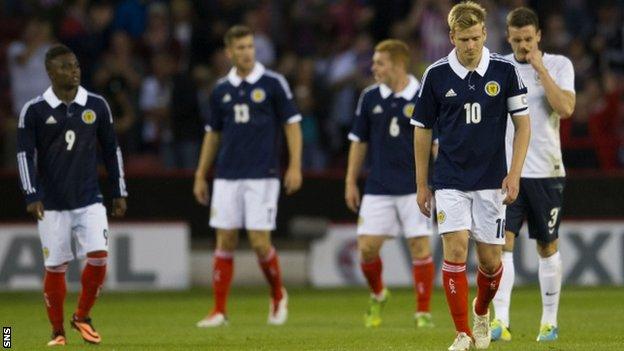 Scotland Under-21s coach Billy Stark took "full responsibility" after his side were at Bramall Lane.
"I did not see that coming," he said. "It was a bit rabbit in the headlights at times - a crushing disappointment. England gave us a chasing.
"I am not going to come here and make any lame excuses.
"We don't have the strength in depth that England have, but I fully expected us to come here and compete better."
From the third minute, when Nathan Redmond fired England into the lead, the Scots were on the back foot.
Stark's side failed to test Jack Butland in the England goal at any time during the 90 minutes in Sheffield against a side temporarily under the guidance of senior England manager Roy Hodgson.
And, after Raheem Sterling broke clear to fire the second seven minutes before half-time, Butland's opposite number presented England with a third goal five minutes after the break.
Tottenham Hotspur's Jason Archer mis-kicked as he attempted to clear upfield and Connor Wickham cleverly volleyed over the stranded goalkeeper and into the unguarded net.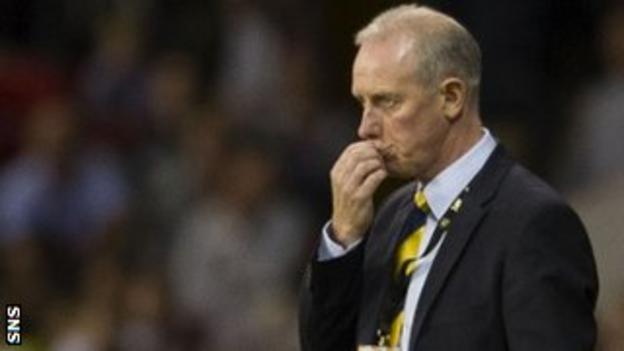 With Scotland's defence in disarray, further strikes from Ross Barkley, Jonjo Shelvey and Tom Carroll made it four goals in 11 minutes.
"I have to praise England," said Stark of a side who had been determined to bounce back from a disappointing campaign in the summer's European Championship finals.
"They got encouragement from the early goal, they had pace and power and the most disappointing thing is that we were second to everything.
"When you play against a side of this quality, you can't give away cheap goals in the manner we did."
Stark apologised to the Scottish fans who had travelled to Sheffield ahead of the on Wednesday.
"These players have not let us down in the past," he added. "But the players and coaches can't get away from a result like this.
"We have to take this on the chin, take it like men and move on."