Neil Young: Chester FC have been 'naive' in Conference openers
Last updated on .From the section Football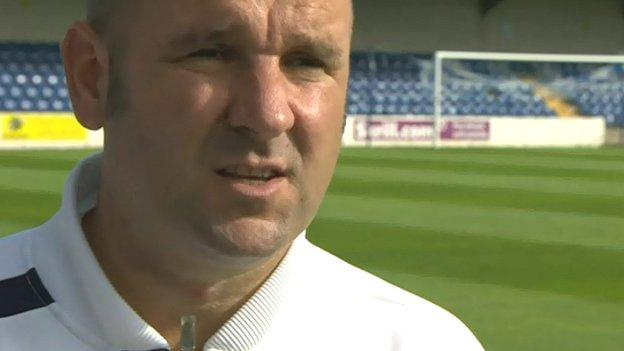 Neil Young says newly promoted Chester FC must make fewer mistakes after losing their first two league games.
The Blues won three promotions in a row to reach the top tier of non-league football, culminating in their
But they have lost their first two games against and and have failed to score a goal.
"I think 'naivety at its best' sums up the two games," manager Young told BBC Radio Merseyside after Tuesday's loss.
After going down 3-0 at relegated Barnet on Saturday, Chester's first home game of the campaign ended in a 2-0 defeat by the Bulls.
"We've conceded five goals now and nobody's opened us up or scored a goal that you would say 'that was a great finish'. It's been five mistakes and five goals.
"I don't think we're lacking a leader. I think we're just a little bit apprehensive at times.
"We haven't had a real cutting edge to us and that's something we have to work on.
"I've said all along that it's not about the first six games of the season, it's about evolving as we go, but we need to improve as we go. The first thing we've got to do is knock the mistakes out because you get punished in this league and it's cruel."
Chester FC, who were formed when Chester City were wound up in 2010 and are now playing at the same level as City were at the time of their liquidation, host Woking on Saturday.