Guernsey FC fans 'far too nice', says captain
By Phil Harlow & Isla Blatchford
BBC South West Sport & BBC Guernsey
Last updated on .From the section Football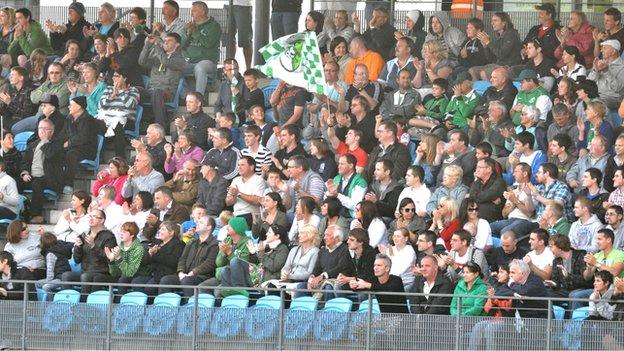 Guernsey FC captain Sam Cochrane says the team's fans should stop being "too nice" by applauding opposition goals.
The islanders are in the Isthmian South, England's eighth tier, after two promotions since their 2011 formation.
"Supporters far too nice last two seasons! Make Footes Lane a tough away fixture for teams now, this will push us on!," wrote Cochrane on Twitter.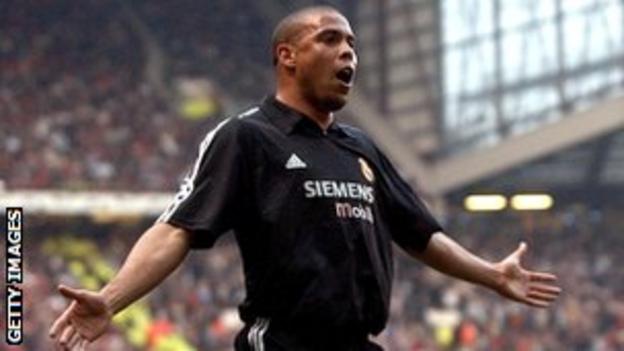 "We respect any opponents but Footes Lane with 1000+ fans is home advantage! Do NOT clap opposition goals!!"
Football fans are not generally known for their generosity in applauding opposition players or success.
But there have been occasional high-profile exceptions such as when Manchester United supporters gave Brazilian striker Ronaldo a standing ovation at Old Trafford after his brilliant hat-trick for Real Madrid in the Champions League in 2003.
Popular former players can also normally expect a warm reception on their return to previous teams, while players carried off with serious injuries are often clapped off by all corners of the ground.
Non-league or lower league teams have also been given enthusiastic ovations after a cup giant-killing or unexpectedly battling performance; but home fans applauding opposition goals or moments of skill is an extremely rare occurrence at most stadiums.
The Green Lions line up at Footes Lane for their first home game of the season on Wednesday against Horsham.
"I expect GFC fans to applaud before/after win, lose or draw in respect to opposition! But support us for 90mins," added Cochrane, who has been part of Guernsey FC's rise through the leagues to the Isthmian League South.
"Many times in games, we as players recognise excellence - hopefully opposition goalkeepers - which I'm happy to give a cheeky pat on the back for!
"[But] Centre forwards slamming the ball in top corner.... No chance! I want to create more atmosphere like Guildford, Walsall Wood etc!"
The Football Supporters' Federation said it also sympathised with Cochrane's desire to create a more hostile atmosphere at Footes Lane, at least during the match.
"Before and after the game it's good to see fans mingling together and sharing the same pubs," an FSF spokesman told BBC Sport South West.
"The social side of the game often draws people in as much as what's happening on the pitch.
"But during the 90 minutes most fans like to get the noise and chants going and players often acknowledge how tough it is playing in a hostile atmosphere.
"As long as that stays on the right side of the line there's no harm."
Guernsey FC secretary Mark Le Tissier said the club had no official policy with regards to applauding the opposition.
"It's a tradition that has been created in a very short space of time." he told BBC South West Sport.
"It's very much a family-orientated club and a lot of the fans are quite new fans and they're not necessarily used to watching football live.
"They might enjoy watching it on TV and now they're learning to be football fans and they're doing it in their own way.
"Guernsey people are very polite generally and it's a very small community here really. Everyone knows everybody - including the stewards - and if anyone did cross the line the club would be confident to sort it out very quickly."
Meanwhile, Guernsey FC midfielder Marc McGrath said he supported his team-mate's comments.
"We don't go away to the UK and get clapped anywhere we go. On Saturday a few of the boys got a bit of stick [at Herne Bay]," McGrath told BBC Guernsey.
"There's a fine line - we don't want it to be too hostile, but I don't agree with clapping opposition goals. We're representing Guernsey, we're there to win and we need as much help as we can get so I don't agree with applauding the opposition personally."