Tony Pulis: Ex-Stoke boss on Hughes, Wenger and Twitter
By David Ornstein
BBC Sport
Last updated on .From the section Football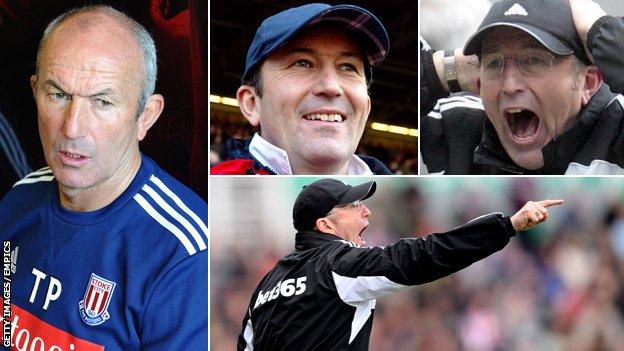 Amid the headline-grabbing managerial changes at Manchester United, Manchester City and Chelsea this summer, Stoke's decision to part with Tony Pulis went comparatively unnoticed.
In what was his second spell at the club, Pulis guided Stoke to the top flight after a 23-year absence before taking them to a first FA Cup final and the Europa League last 32.
The 55-year-old has also led Bournemouth, Gillingham, Bristol City, Portsmouth and Plymouth in 21-year managerial career, which followed 17 years as a player.
Speaking at length for the first time since leaving the Potters, Pulis told BBC Sport he had no complaints about Stoke's decision and went on to discuss a whole host of other subjects.
Losing his job
"It's disappointing anything has to come to an end, but it happens and you have to accept that. It gave me a chance to reflect on my achievements. We had success on and off the field at Stoke. The stadium was revamped, making it one of the great Premier League venues, and the training ground is now one of the best in the country. Tens of millions of pounds were spent on that. The club is unrecognisable to when I first went there. I left Stoke a very good legacy on and off the pitch."
The right decision?
"There always comes a time to part company and the club felt that was at the end of last season. I agree totally with the decision. The club felt it wanted to go in a different direction and I'm not the type of person to hang around if I don't feel it's the right way. I have my own views and ways of how a football club should be run. I will always hold the club in great esteem and leave with my head held high. I didn't do a bad job."
Hughes takes over
"It is a brilliant appointment. He has experience in the Premier League and the club see him as capable of taking them a step forward. He'll be picking up the strongest squad of players the club's had in its history. The training ground, stadium, atmosphere - he's got it all in place and I'm sure he'll enjoy the challenge."
Answering the critics
"You work to the strengths of the players you've got and try to get the best out of them. We played good football at times and were criticised by one manager in particular. [Arsenal boss] Arsene Wenger was always despondent coming to the Britannia Stadium because of the way we played against his team. We were very tough, structured, organised and difficult to play against. We bought better players in last year and played a lot more football than before. We were very unfortunate away from home against big teams. Only Manchester City took our pants down and slapped our backsides. We gave the rest of them a good game."
Unrest on the terraces
"I didn't hear any fans shouting about a lack of entertainment when we beat Bolton 5-0 in FA Cup semi-finals or when we played in Europe, beat Liverpool on Boxing Day or beat both Tottenham and Arsenal at home. There are people today who have the opportunity to make themselves sound like the majority when they're not. It's something clubs need to be careful of. If you had said 10 years ago that this is what the club would have achieved, fans would have been doing somersaults. A lot of them are. They're absolutely delighted at what we've done."

An Owen-goal?
"Michael Owen was on a pay-per-play deal. Players at other clubs have been on massive wages and not played, but Michael never got paid unless he played. It was a no-lose situation for us. Plus I found him to be a really good guy to have around the place."
Big-spending Potters
"When we arrived in the Premier League, we were way behind everybody else, so we had to buy players to stay up. A net investment of £80m over five years is absolutely nothing compared to what the club received for being in the top flight. Look at the tens of millions spent on the stadium and training ground. That is because of Premier League football. Look at the squad. The likes of Ryan Shawcross, Asmir Begovic, Steven Nzonzi and Marc Wilson are worth tens of millions. If you don't speculate, you don't accumulate. Criticism of what we did is absolutely ridiculous."
Battling the big guns
"The reality is that money talks. Man City were nowhere for a long time, Chelsea the same. New owners came in, invested enormous amounts of money and they became top clubs almost overnight. For the Stokes of this world, finish any position from eighth to 16th and you've swum the Channel. It's very difficult to go higher without a billionaire owner, but there's no point being negative. To play the big clubs every year is wonderful. Stoke had 23 years away from top-flight, never forget that. They are privileged to be a part of the best league in the world."
United we stand?
"It's lovely to see someone like David Moyes come through and manage Manchester United, one of the great clubs in the world. You hope and pray this situation works out. I've read articles from people in the game who say the only chance a British manager has got of managing a Premier League club - unless you're a name and have been a top player - is to take a club up from the Championship. That's happened a few times, but it's difficult. I'm sure there are British managers who, if given the money Roman Abramovich has pumped into Chelsea, would be successful as well. There are some excellent young British managers coming through and you hope they get the chance."
Dwindling talent pool?
"One thing that really irks me is the fact we hold players back. The best youngsters should be out playing league football, not closeted in the Under-21s. Playing age-group football in front of a couple of hundred people where the result doesn't matter is so, so different to playing for a club whose supporters want to see their team win, whose manager who needs to win and whose players need to perform. People say football in the lower leagues isn't good, but look at the careers of Jermain Defoe and Frank Lampard, who played for Bournemouth and Swansea. We keep our young players under wraps for far too long - a massive fault."
Guiding lights
"Not everybody is going to be a good coach but there has to be a better way of getting top people into academies. Some of the coaches - especially in the lower leagues - get paid minimal amounts. Money should be filtered down from the top so better coaches are attracted into the game. If we're going to develop top players, we need better coaches at every level. It's a crying shame when former managers and coaches like George Graham, Joe Royle and Terry Venables are not working in football."

Social media
"Life has moved on enormously. I don't understand why people go on Twitter to tell people what they're having for breakfast. It's beyond me but that's the way the world is today. I'm a traditionalist, but that's the way young people want to lead their life."
Footballers or film stars?
"Football has become like Hollywood and the players are like film stars. They have to recognise the responsibility they have. Football was traditionally a working-class sport, with fans walking into grounds with players. It has completely changed. How do you stop progress? I haven't got answers."
Are fans being alienated?
"Most Premier League grounds are sold out, so you cannot say fans are not turning up to watch games. Are they moving further and further away from the players? Of course: Players are closeted, wrapped up in cotton wool, so they don't understand what goes on in the outside world. That gap between players and fans is only going to increase because of the money in the game."
British football's identity crisis
"When Liverpool were winning the European Cup in the 1970s and 1980s, everyone was looking at what we were doing. Now we tend to follow the fashion. At one stage, we were looking at copying what the Dutch were doing, then it was the Spanish, now it's the Germans. Who will be next? Let's put a format together that suits British football. We've got to find a system and set-up that challenges our boys and drives them on to become good and great footballers."
Looking to the future
"I've got an open mind. I was born to work and my wife is getting fed up of me already! People talk about the style of football my teams play, but if I went to Chelsea tomorrow the style would be different to Stoke because of the players available. I do think you get pigeon-holed in England, but I'm not complaining. I've had a fantastic career. If people want to criticise me, they have a right to do that. It doesn't upset me at all. If they scratch beneath the surface, they'll see what I'm all about and the things I've achieved in my career with small budgets and small, unfashionable clubs. I think I've done OK and I hope I get the opportunity to do it again."