Rickie Lambert's dream debut boosts England's attacking options
By Ben Smith
BBC Sport at Wembley
Last updated on .From the section Football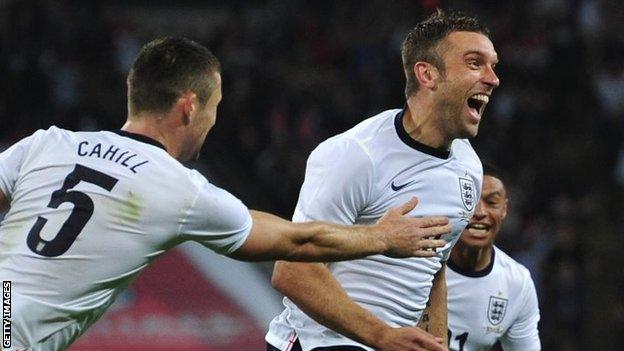 With one thumping header, Rickie Lambert's England dreams finally came true.
After more than 31 years of waiting, it took the Southampton striker less than three minutes to settle a tumultuous Wembley encounter between the oldest of enemies and ensured his was the name on everyone's lips as they went home.
Lambert's phone was bombarded by congratulatory text messages and calls. He was the man every media outlet wanted to talk to.
Yet life has not always been so sweet - Lambert's journey has been a long and arduous one. There was a time when he felt even reaching the Premier League, let alone the national team, would be beyond his talents. His path has seen him rise, fall and rise again through the divisions, a roller-coaster ride that fittingly started at Blackpool.
"I have been dreaming of that all my life, it means so much," he said after England's 3-2 victory. "I was trying to play it cool this week but deep down I wanted to scream. It was brilliant.
"The lads have made me feel welcome and I've got a lot of respect for them all. It shows how far I've come, I dedicate this to my family and to Southampton Football Club."
The story of the journeyman pro - which has taken in Macclesfield, Stockport, Rochdale and Bristol Rovers - is a fairytale to be savoured and celebrated.
This was not a pity call up, but one based on performance and persistence. Last season, Lambert was the Premier League's leading English scorer alongside Chelsea midfielder Frank Lampard. He could no longer be overlooked and ignored.
His powerful, all-action style will inevitably draw comparisons with Andy Carroll. Like the West Ham striker he offers Hodgson a physical presence, a focal point and, more importantly, a much-needed plan B.
But Lambert has always been more than the token big man. He is clever and creative. He can drop deep, bring others into the game with a first touch that is the envy of many of his peers, and always works tirelessly for the cause.
But above all, he offers goals - regardless of the opponent or the occasion.
Manager Roy Hodgson hinted afterwards that Lambert would not be "struck off" his list of strikers lightly.
Bookmakers took their cue, immediately cutting the odds on the Southampton man being on the plane to Brazil for next summer's World Cup.
The consensus at Wembley was that Lambert's goal had, if nothing else, put him in a strong position for England's critical qualifiers against Moldova and Ukraine in September.
With Montenegro leading the group by two points, having played a game more, and Ukraine breathing down England's neck in third place, just a point behind - they dare not slip up.
Lambert, as well as Jack Wilshere and Danny Welbeck, offered the biggest positives against Scotland for Hodgson. A much-needed outing for Wayne Rooney was another.
Yet the England boss conceded there were aspects of his team's performance that troubled him.
This was, after all, a night when even in defeat, Scotland exposed England's shortcomings. At times the home side looked dynamic and dangerous, notably when Theo Walcott levelled the game at 1-1 with a wonderful individual goal and when Rooney and Tom Cleverley combined brilliantly for another chance that Scotland blocked.
But for long periods they lacked cohesion, confidence and consistency. Too often passes went astray and possession was lost. Too often basic technical errors allowed Scotland to launch attacks that threatened England's creaking defence.
The centre-back partnership between Phil Jagielka and Gary Cahill was unconvincing, with both beaten too easily and too frequently.
A "friendly" against Scotland is perhaps incomparable to anything else in international football and the fact Hodgson's side overcame the potential embarrassment of defeat by the auld enemy not once but twice, was encouraging, though.
As was the return of Wilshere, albeit for 45 minutes. His poise and presence in midfield gave England an added dimension, especially when he combined with Cleverley, who once again applied himself well.
If England can find solidity in defence and can help Rooney back to the peak of his powers, playing regularly and feeling loved, they will be a force to be reckoned with.
There is also cause for optimism for England and Hodgson in the fixture list. Three of their four remaining qualifiers are at Wembley and their fate, at least at this stage, is still very much in their own hands.
But this was Lambert's night. On his journey back down to the south coast he may have allowed himself to dream of repeating his Wembley heroics.
His country may need him again but they will also need to find much more.
Scotland may have been sent home to think again, but Brazil is still a long way off.